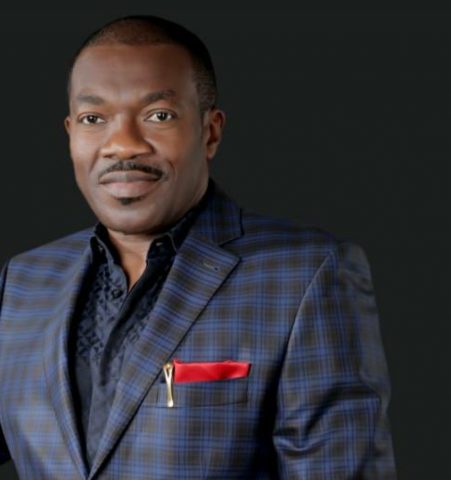 [Interview] Buhari's China Trip, A Development Consolidation -Felix Idiga, GOGAN BOSS
Chief Felix C. Idiga, National Coordinator of the Good Governance Ambassadors of Nigeria (GOGAN) yesterday defended President Buhari's recent trip to China, saying it had boosted foreign diplomacy between Nigeria and China as well as a consolidation of development. He spoke to some foreign journalists at the JFK International Airport, US while on a business trip in that country. Excerpts.
*Your President, Muhammadu Buhari was in China and just returned to your country. What was your assessment of that trip?*
My President was in Beijing, the People's Republic of China to participate in the 7th Summit of the Forum on China- Africa Cooperation (FOCAC 2018). He was a guest to the Chinese government like many other world leaders who also attended the summit. He is now back to Nigeria after a successful outing in China facing other domestic issues needed in moving my country forward.
*You said "successful outing" What makes the trip a success?*
In the first place, President Buhari also participated in the summit which held September 3rd and 4th in his capacity as the chairman of the Economic Community of West African States ( ECOWAS) and delivered remarks at the high-level dialogue among Chinese and African leaders, business representatives and African entrepreneurs. Most of these were Nigerians and therefore the country is best for it. He also attracted some developmental projects to the country.
*Many of your countrymen frowned at the presence of more politicians rather than business men and women in your President's delegation*
That is not exactly the truth. Mr. President merely went on an international summit where he equally had after the summit, bilateral meetings with Chinese President, Xi Jinping and the Prime Minister Li Keqiang. They were said to have discussed infrastructure financing for strategic projects in Nigeria. Don't forget that in April 2016 Mr. President stormed China with a delegation of over 100 Nigerian businessmen and Women and entrepreneurs and project financing and business partnership worth over $6b were attracted to the country. What this recent trip aimed to achieve is a consolidation of those development agreements as such there was actually no need to embark on that journey with another retinue of people. That would amount to economic wastages.
*Can you enumerate some of the gains your President recorded from this China trip?*
Like I said earlier, this recent trip was aimed at consolidating the gains of the trip of 2016. The President and the Chinese leaders also discussed the upgrading of Nigeria-China relations from "strategic partnership to comprehensive strategic partnership". They used the occasion to assess the progress made so far in Chinese interventions in Nigeria's key priority infrastructure projects, especially the ongoing ones in the railway and power sectors. Since the past three years plus, Nigeria under President Buhari has pushed forward practical cooperation with China in so many areas such as infrastructure construction, trade, investments, finance, power, agriculture, education cooperation among others. Our relationship with the Chinese has grown progressively to our advantage. This is why many agree that we need a continuation of this administration to fully solidify these moves.
*Not many in your country will agree that your alleged progressive relationship with China has impacted on the lives of the ordinary Nigerian*
You guys in the foreign press find it hard reporting our positives. I don't think this is right. During his 2016 trip to China,  the President got many memoranda signed for Chinese investments into our Power Sector. In fact, the North-South Power Company Limited signed an agreement with the Sinohydro Corporation Limited valued at around $4.6b for the construction of a 300 Mega Watts solar power in Shiroro of  Niger state. There was also an agreement of about $55m signed in the Solid Mineral sector aimed at boosting production of granite and marbles. There was another of about $1b to be invested in the development of greenfield expressway for the Abuja-Ibadan-Lagos express roads as well as many other agreements signed for housing, railways, industrial park and gas sector development in Ogun state. Works on some of these projects had long started by their firms, especially the Chinese. And for your information, China releases funding directly to their firms for most of these projects' executions. Some of them therefore may have been suspended due to unavailability of funds or earlier releases of funds by the Chinese government. So Mr. President's recent trip was aimed at updating the Chinese leadership in Beijing on progress of works and other challenges in some of these 2016 signed investments. He also used the occasion t negotiate for more of such partnerships.
In conclusion, the ordinary Nigeria benefits and will keep benefiting when the country is progressing. It only requires patience and it takes a gradual process fixing a battered economy like ours.
*You are the National Coordinator of GOGAN. How has your organisation managed to carry Nigerians along on the achievements of the present administration in that country?*
GOGAN preaches and advocates the promotion of good governance. Part of our strategies is what we are doing here today. That is why I am imploring you foreign media to also look at our improvements; look at our little achievements in so many areas rather than your continues bashing of our few only negative angles. At the home front, Nigerians are witnessing the gradual development in several sectors of the economy. The fight against corruption is yielding great results and slowly but steadily Nigerians are beginning to appreciate the good works of Mr. President. We are simply on the move and we are getting there. Thank you.