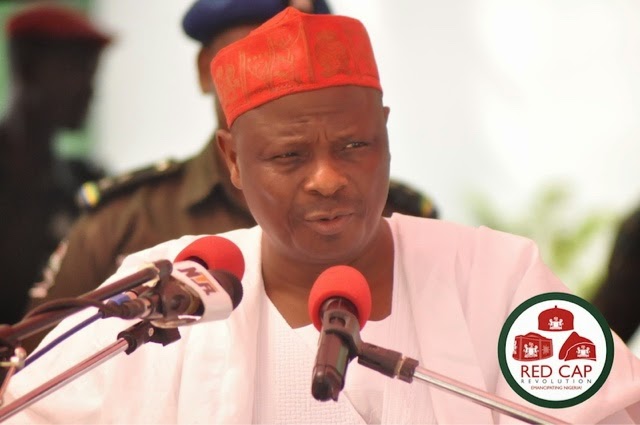 2019: Kwankwaso Wants Benue To Vote For Peace, Good Governance
From Msughshima Andrew, Makurdi
A Presidential aspirant on the platform of the Peoples Democratic Party (PDP), Sen. Rabiu Kwankwaso, has asked Benue people to vote for peace and good governance come 2019 general elections.
Kwankwaso gave the charge on Friday in Makurdi when he led other members of the Kwankwasiyya Movement to pay a congratulatory visit on Ortom promised to tackle insecurity in the country if elected the president in 2019.
Kwankwaso stated that the PDP has credible, tested and trusted candidates and called on Benue electorates to ignore money bags but votes only those who will ensure their peace and security.
"I'm sure the Benue people will vote for peace, good education, good agriculture and everything good can only be found in PDP
According to him, the country has enough funds to use for the protection of its citizens but most of it end up for private security.
"My desire is for us to continue to live in peace. It is only when there is peace that development would thrive in our society. I will ensure that the security agencies are trained and retrained to be abreast of current security technics so as to tackle insecurity.
"We came to congratulate Ortom for defecting from the All Progressives Congress (APC) to his former party, the PDP. Having being in PDP for 16 years and APC for three years, we discovered that there was no comparison and the best thing was to go back to PDP
"You did the right thing for defecting. Every day people learn new things as events unfold. Today PDP is wiser than it was in the past years. The party is aiming  towards success. It has learnt its lesson.
"I encourage you my members to give the Benue PDP maximum support in order to clinch all the elective positions in the state and at the federal level.
"Membership of my political movement cut across all political divide because they believed in my antecedents both at the grassroots, state and federal level," he said.
Gov. Samuel Ortom of Benue, welcomed Kwankwaso and hailed him for offering to serve and fix a country that was heavily divided
Ortom lamented that Nigeria has become a country where lawlessness is the ordwr of the day, where cows are prefered to humanbeings and a country that has become a laughing stock in the committee of nations.
He therefore vowed that come 2019 "we are going to retire some people from politics. We say no to godfatherism and yes to good governance.
Ortom assured the presidential aspirant that if the PDP would give him nomination he may not need to come to Benue for campaigns. because the state was now PDP.
He said that Kwankwaso was a tested and trusted politician who had cut his teeth in the political theatre.
He said that in 2019 some politicians would be retired from politics because they do not have good intentions for the state.
He said that the party was working assiduously in order to get a leadership that would unite the people.
Earlier, the Coordinator, Kwankwasiyya Movement in Benue, Engr Nathaniel Alaaga, said that the movement had registered 650,000 in the state.