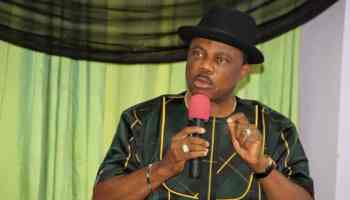 Anambra Yet To Receive Refunds Of Debt Of N43 Billion Owed By FG
By Tony Nezianya
Awka, Aug. 1, 2018 (MOI) The Anambra State Government has yet to receive the refunds of the N43 billion owed it by the Federal Government for road projects in the state executed by the state government.
"What has just happened is that the process has just begun. We are still far from receiving the funds,'' the Anambra State Commissioner for Finance, Mr Ifeatu Onejeme explained.
He was reacting to stories by a section of the media quoting a female politician from the state as claiming that the Federal Government has refunded the amount owed Anambra State over the years.
According to him, the Senate has merely approved a borrowing plan by the Federal Ministry of Finance, under which refunds will be facilitated.
The Anambra State government came up with the idea of converting the debt into borrowing following the inability of the Federal Government to pay the debt.
The state government consequently suggested flotation of bonds or promissory notes.
"The approved borrowing plan is a long way to actual receipt of the cash by the state, the finance commissioner stated.
"What will now happen is that the Debt Management Office (DMO), the Central Bank of Nigeria (CBN) and the Ministry of Finance will now work out details of the borrowing plan for the N37 billion approved, in order to determine the source of funding of the plan.
"The plan may also involve the Securities and Exchange Commission (SEC), if the instruments to be used will involve them.''
"With payments through bonds or promissory notes, the state has the option of waiting for maturity of instrument and goes through a group of commercial banks to choose the option of discounting the debts for cash,'' he said.
"As it stands now, the receipt of the cash will depend on how fast the DMO, the CBN, the Finance and SEC work hard at fasttracking the process".
He stressed, "it is premature, therefore, to talk about cash refunds to Anambra.
"Those praising the Federal Government for the purported payment should seize deceiving Ndi Anambra that the debt has been paid. There is still a long way to go.''
The debt, accumulated from days of Gov. Chris Ngige as the Anambra State governor, through Gov. Peter Obi, and Gov. Willie Obiano was actually N47 billion, but a series of reconciliations with the Federal Ministry of  Power, Works Housing as well as the Federal Ministry of Finance brought it down to N43 billion.