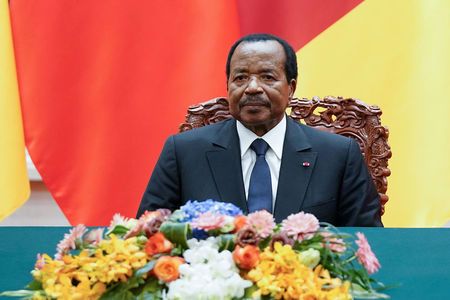 Cameroon Court Convicts Anglophone Activists Of Rebellion And Terrorism
Loading ...
A court in Cameroon on Friday convicted seven activists from the country's Anglophone minority of rebellion and acts of terrorism and gave them sentences ranging from 10 to 15 years, a defence lawyer said.
Authorities arrested Mancho Bibixy, a radio presenter in the English-speaking Northwest Region, and dozens of fellow activists last year as part of a crack down on a budding Anglophone secessionist movement by President Paul Biya's predominantly Francophone government.
One activist was acquitted, Bibixy's lawyer, Claude Assira, told Reuters, but he said the convictions "would only worsen the … Anglophone crisis".
What began as a peaceful protest movement in 2016 by teachers and lawyers against perceived marginalisation of the English-speaking minority became an armed conflict last year following violent crackdowns by government forces.
The repression helped fuel support for radical separatist movements, including armed groups aiming to create an independent state that have killed more than 20 soldiers and police officers.
The unrest has destabilised the Central African oil producer months before an election in which Biya will seek to extend his 35-year rule.
Tens of thousands of Cameroonians have fled reprisals by state forces to neighbouring Nigeria, and the U.S. ambassador to Cameroon last week accused the Yaounde government of targeted killings, arson and looting. [nL5N1SP4VM]
The government denies those allegations and summoned the U.S. ambassador earlier this week to protest his remarks.