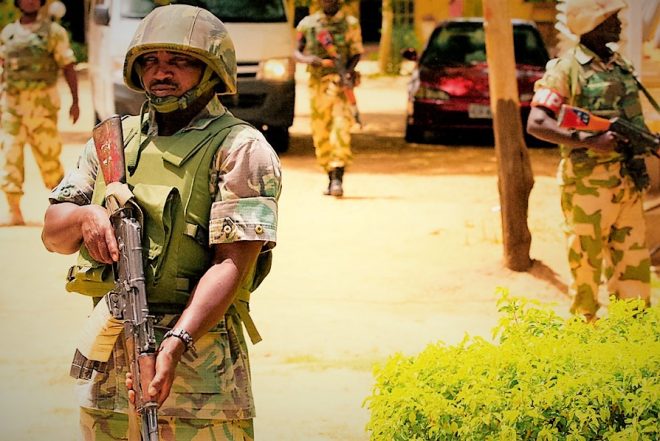 Renewed Attack: Fulani Herdsmen Kill Soldier In Benue
–
Loading ...
Governor Samuel Ortom of Benue State Tuesday disclosed that the renewed herdsmen crisis in Guma local government area of the state had led to the murder of a soldier by suspected herdsmen in the Guma local government area of the state.
Governor Ortom who made this known when he paid a condolence visit to the paramount ruler of Gwer West local government council, Chief Daniel Abomtse, over the recent killings in the Agagbe area of his domain by suspected herdsmen.
"The soldier was killed on Monday in Guma local government area by herders who engaged security men in a gun battle as they tried to repel them from attacking villages in the area.
"This killings would not be allowed to continue. The youths must rise up to support security agencies. David in the Bible used stone to bring down Goliath, there are stones all over the places for the youths to defend themselves. These killings are enough and we will no longer take it.
"I believe in the rule of law, equity and fairness, but I cannot continue to keep IDPs and l can't afford to have another IDPs in Gwer West. This must stop, we must stop truncating the future of our younger generation.
"When we allow laws to be violated and nobody takes actions, it then allow for impunity and when you allow for impunity, it will result to anarchy which allow for lawless Society.
"Therefore, we the citizens must rise up to support the security agencies by way of providing lawful and necessary logistics like information, equipment and financial support to backup their operations.
"Security agents are not spared and the security challenges are enormous. The recent gruesome murder of 24 people by Fulani herdsmen in Gwer West is quite condemnable.
"Time has come that if you are willing to live in Benue state, you must be ready and willing to be law abiding".
"The government is already working with the traditional rulers and other necessary organs of government to strengthened the local vigilantes so as to give it full legal backing that would enable them assist the security personnel in the state in curbing criminality in the state," the governor stated.
Earlier, the traditional head of Gwer West, Chief Daniel Abomtse, said "I have lost a total of 212 subjects to suspected herders attacks in my domain between 2011 and 2018 in 24 attacks.
"These attacks include the latest killings of 24 rural dwellers and injury of scores in Agagbe area.
"I must state that my subjects would not want to stay in an Internally Displaced Peoples' camp as a result of the crisis, so I appeal for the deployment of adequate security to enable the displaced persons return to their homes because they are currently scattered around houses of relatives in Naka town."
In his remark, Chairman of Gwer West Local Government Council, Francis Iyanga, disclosed that close to 30 Persons were killed in the crisis with 7 people left badly injured in the attack on communities in the area by herdsmen that let 10 council wards sacked and in ruins.