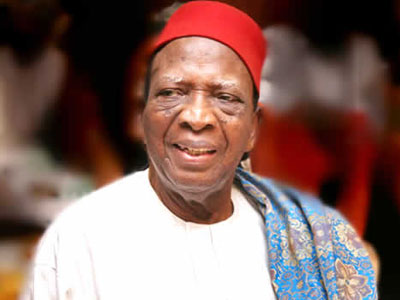 Professor Nwabueze: No Peace Until Federal Government Delists IPOB As Terror Group
–
Loading ...
Renowned jurist and former National Secretary of Ohanaeze Ndigbo Professor Ben Nwabueze says that there would be no more peace talks until the Federal Government of Nigeria delists the Indigenous People of Biafra (IPOB) as a terror group, and ending its proscription.
He questioned the Federal Government's retention of IPOB on its terror list, which proscribes the Biafra separatist group's activities, while groups like Boko Haram and the Fulani herdsmen mass killers, who are on a murder spree, are moving around freely.
Nwabueze was addressing members of IPOB, led by the African Representative Mr. George Onyibe, who visited him at his country home in Atani, Anambra State, to apologize for the disruption of the summit organized by Eastern Consultative Assembly (ECA) at Enugu on February 27.
The group was accompanied by the Secretary-General of ECA Evangelist Elliot Ugochukwu-Uko, promising that the distruptive incident would not repeat itself in future.
Prof Nwabueze said: "IPOB cannot be asked to negotiate for peace when they remain proscribed. I don't think the Federal Government wants peace because if they want peace, the first thing to do is to de-proscribe IPOB. I will not be part of any peace talks with anybody until IPOB is de-proscribed and until the declaration of IPOB as a terrorist group is removed. These two conditions, if they have the courage to do these, okay we can talk peace. I will not participate in any kind of peace so long as IPOB remains proscribed or tagged a terrorist organization."
"There are groups [and] associations that have done more terrible things in this country. IPOB is only agitating for Biafra and they have done nothing more than agitation, they have not killed nobody; but, on the contrary, they are the ones being killed and they are still being killed. If we talk of the people that have massacred and slaughtered people, it is the Boko Haram insurgents and Fulani herdsmen, which should be declared terrorist groups and proscribed.
"The Federal Government used double standards in the proscription of IPOB. What standard did they use to proscribed IPOB? They use another standard for Boko Haram, used another standard for Fulani herdsmen; these are the people they should have proscribed. The people who gave quit notice to Ndigbo to leave the north in 90 days by 1st October last year, [they] have not proscribed them.
"This is the thing that has destroyed Nigeria overnight, and hate speech organized by that group called Arewa Youths intended to bring about ethnic cleansing; they are still moving about. I mean the Arewa youths, nobody proscribed them, nobody declared them a terrorist group like IPOB, who are doing nothing but agitation for Biafra. And those who have slaughtered and killed innocent citizens, the Fulani herdsmen, are moving about freely with AK-47s still killing people even the very day the President visited the state where they slaughtered people, and nothing was done," Nwabueze complained.
He continued that "They turned around to castigate Gen. T.Y Danjiuma for calling on Nigerians to defend themselves. Can you imagine that, the Constitution, section 33 guarantees the right of self-defense. Somebody is attacking you with AK-47 and you use stick to go and reply or fight them? I can't imagine anything such idiotic [thing] like that.
"It is senseless. It means nothing; somebody is attacking me and you say I have the right to defend myself and you said I should use stick and arrow when the person is using AK-47; does it make sense? You want me to surrender myself to be killed, to be slaughtered just like that when the Constitution says I have the right to defend myself? I should be allowed to defend myself using means used by the attacker; that is the only thing that makes sense.
To IPOB he said: "You will win the situation. You will win the cause of agitation. The agitation must continue, but you should not make the fatal mistake that will jeopardize our future. We will win. We will win," he said.
"I will continue fighting for Ndigbo. IPOB is fighting a just fight because they are treating Igbo people as if they don't belong to this country, injustice and nepotism everywhere. If I said 'no' about injustice in 1965 at University of Lagos, you should say 'no' today. If they do not want us to have Biafra then let them stop all the injustice; let them stop all the inequity; let them stop all marginalization. At the moment, the agitation is led and spearheaded by you young people. The old people and my generation are not featuring very much, but we all share the same sentiment.
"We the Igbo people belong to this country as much as others. This issue of non-inclusion in government must be stopped. The Igbo people must be part of this government. An Igbo man led the movement for the freedom for Nigeria, Zik led the movement for Independence, and you come today and think that you can brush us aside? It won't work. Let them be careful. If they don't take care, If they don't stop all these injustice, unfairness and all the marginalization, it will be an all-embracing Igbo movement, we will continue the movement until we get what we want," Nwabueze warned.
The Secretary-General of Eastern Consultative Assembly, Evangelist Elliot Ugochukwu-Uko, in a brief speech condemned all the forces against the the Biafran cause. He mentioned Igbo leaders, National Assembly members and governors for their nonchalant attitude towards their cause.
"The youths are angry that the leaders have betrayed them," he said. "Dim Chukwuemeka Odumegwu, until his death, fought for the Ndigbo."
Earlier in his address, Onyibe said: "With deep sense of responsibility, we have come today to apologize to our highly esteemed leader, father and elder Prof. Ben Nwabueze, who was inadvertently embarrassed by angry brothers and sisters at the ECA event at Enugu."
"We are deeply sorry for the unfortunate incident of that fateful Tuesday. You and some of those elders present at that hall are the only true leaders we recognize and respect. Once again, we apologize to them all from the bottom of our hearts. Our people are so frustrated with this contraption that even our unborn children have rejected it. The anger in the land and evil in the air inspired the display of public anger by our brothers who obviously could not control their emotions. Please, kindly accept our apology.
"We have nothing but deep respect for the Eastern Consultative Assembly. We would also like to use this opportunity to warn that any gathering in our sacred and ancient lands not discussing a referendum will be shut down. We respect our noble elders like your good self, sir. However, we will not allow other people to use the title of elder to deceive us or sell us to Abuja ever again," IPOB African Rep stated.