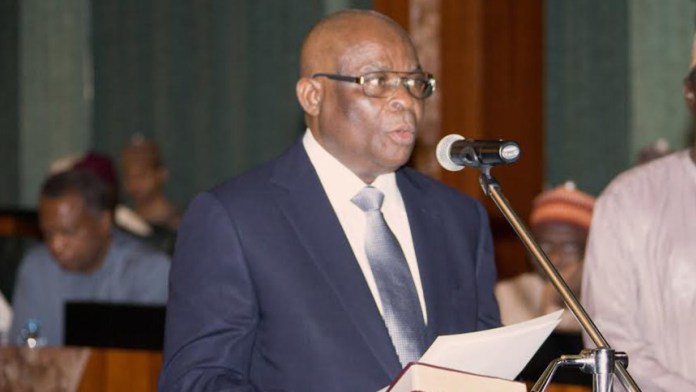 CJN Updates Buhari On Activities Of Judiciary
–
Loading ...
Chief Justice of Nigeria, CJN, Justice Walter Onnoghen, on Tuesday, updated President Muhammadu Buhari on activities of the nation's judiciary.
Mr Onnoghen, who spoke to State House correspondents on the outcome of the closed-door meeting with the President, said he kept the president abreast of latest developments in the judiciary.
He added that "I am here to felicitate with Mr President.
"As you are aware, he has just returned from the Commonwealth Heads of Government meeting as head of Federal Government delegation and there is the need for regular interaction to keep him abreast of latest developments in the judiciary."
The CJN, who expressed satisfaction over the performance of judges in the fight against corruption, said the setting up of Commission for the Prevention of Corruption, COMPRECO, had assisted in this direction.
Mr Onnoghen added that judges should not be blamed for the delay in dispensation of justice in the country.
He said: "l believe that you know, with your experience of many years of practice that there has never been a situation in which any case was taken to court and decided upon and the judge was not there to listen to the case or having finished hearing, he refused to deliver judgment.
"So, when cases are not tried expeditiously and the judge is there, ready to listen to the case, you come and for one reason or the other, you take a date to adjourn the case, and the court grants the adjournment which is normal during proceedings, you cannot turn round and blame the judge for that.
"These are basic things that everybody must know. We must all work together, cooperate for the system to move forward. But if you keep thinking that the judiciary is the culprit in this delayed process, you are not telling the whole story.
"It is not the judiciary that would go and arrest someone before looking for evidence; it is not the judiciary that would go into investigations.
"We do not operate the inquisitional mode of justice as it is practised by the French. Our own is that an independent body must investigate, prosecute, while the judge decides.''
On creation of special courts for speedy dispensation of justice in the country, Mr Onnoghen said it was not the responsibility of the office of the CJN or the judiciary to set up such courts.
According to him, it is the executive in conjunction with the legislature that has the prerogative of setting up special courts.
He, however, expressed the readiness of the judiciary to provide the necessary manpower and logistics for smooth running of such courts when established.