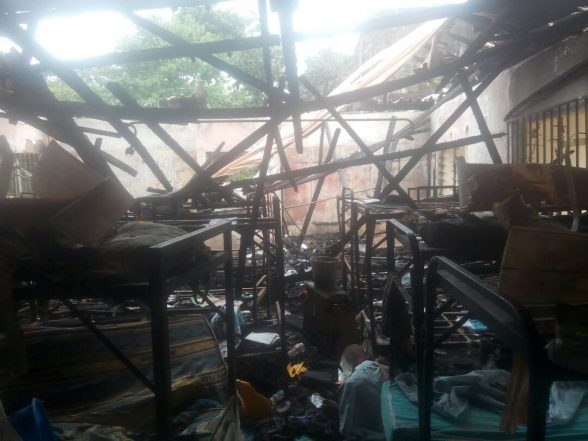 N15m Lost To Charcoal Iron Fire In Anambra School
–
Loading ...
By Nedum Noble
Students of Loretto Special Science Secondary School, Adazi-Nnukwu, in Anaocha Local Council Area of Anambra state, are still counting their losses following the inferno that engulfed their hostel on Friday.
The fire which was attributed to charcoal iron, was said to have left the occupants of the hostel, known as Maria Goratti, in tears as all their belongings were gutted by the inferno.
Our correspondent gathered that although no life was lost, several items worth millions of naira were razed by the fire.
Narrating their ordeal, the Manager of the institution, Rev. Fr. Hillary Nwajagu said the students were writing for their final examinations when the incident happened.
He disclosed that the inferno was from a charcoal iron used by the students to iron their cloths, adding that the fire had engulfed the building before they were alerted.
"We heard a shout from the hostel and rushed to the scene only to discover that the whole place has been covered by fire when the students were having their final examinations in the classes," he said.
The cleric who estimated the loses to be about N15million, said the fire was put off with the assistance of extinguishers provided by the state government, and commended the prompt response by men of the state fire service.
Reacting, the Principal of the school, Mrs Nneka Enemuo, suggested the construction of a separate building where students would be ironing their cloths to avert similar occurrences.
"We are appealing to spirited individuals to come to our rescue by helping us erect another hostel for the students where they will be ironing their cloths to avoid such incidents," she said.
The Senior Prefect of the school, Miss Chidum Dunu, commesurated with the affected students, just as she appealed for government intervention.