Nigerian Army Flags Off Ex Ayem A'kpatuma
–
Loading ...
From Msughshima Andrew, Makurdi
The Nigerian Army has flagged off exercise "Ayem A' Kpatuma", (Ex Cat Race) to flush out criminal elements and hoodlums with a view to restore peace and calm to troubled communities of Benue State.
The Chief of Army Staff, Lt. General Tukur Buratai performed the flag off Tuesday in accompany of Benue State Governor Samuel Ortom, Kogi State Governor Yahaya Bello, Nasarawa state Deputy Governor, Silas Agara among other National Assembly members from Benue including Senator George Akume.
Speaking at LGEA Primary School, Mbabegha, Guma LGA, venue of the flag off, the Chief of Army Staff cautioned the field commanders to adhere strictly to the rules of the game.
He explained that Ayem A'kpatuma, an exercise that would help familiarise the troops to the challenge of internal security in the state, would be jointly conducted with other services of the Armed Forces as well as other security agencies especially the Police, DSS and other paramilitary organizations
According to him, the exercise is one of the ways the army is supporting the civil authorities to assuage the challenges facing our society.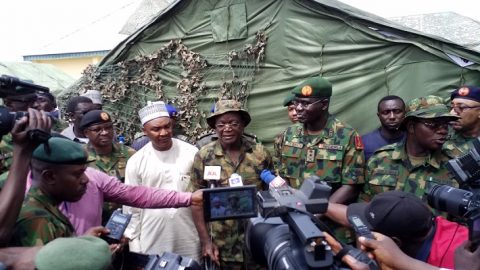 "First and foremost let me make it clear, that this is not an operation, its is an exercise that is essentially a military exercise. And we want to assure you that we are not targeting any individual. It is an exercise that will help our officers and soldiers understand the basics that is required for internal security operations which include ambushes, military patrol,  civil military activities among others.
He said the army will also carry out medical outreach and townhall meetings to interact with the people, understand each other and engage in other programmes that will enable the people start life despite the challenges they are facing.
Lt. General Buratai who noted that the exercise will cover virtually the whole of Benue state said the neighbouring states of Kogi, Nasarawa and Taraba will also be covered just as he expressed hope that at the end, it will help those who have been displaced to go back to their respective home.
Governor Samuel Ortom who thanked the president for approving the exercise in Benue said he does not know the difference between an exercise and operation saying whatever happens, they should ensure that normalcy returns that as expected by Benue people.
"We look forward that the operations will support the civil society like you have said but we now have over 160 IDPs and its quite challenging taking care of them.
"Its our desire that confidence be built in them and the killers of our people are completely arrested or they should leave us alone.
"The Anti-Open Grazing Law is meant to provide a win win for both farmers and herdsmen. This is done with all sense of humility and sincerity to ensure that herdsmen and farmers live together. It is not targeted at any individual but meant to instill rule of law, which is the antidote to development. And we believe that our laws would be obeyed".
Kogi State Governor, Yahaya Bello who said he was in Benue in solidarity with Governor Ortom said he has a sentimental attachment to Benue having been born and brought up in Benue. "Benue is my second home and whatever affects Benue, affects us in Kogi state".
He said President Mohammadu Buhari is very concerned about the welfare and security of all citizens and reasons why he sent the army and other paramilitary agencies to ensure that Benue and the people in North Central states are well secured.
Bello who cautioned against politicizing the insecurity called on the people to remain peaceful and cooperate with all security agencies operating in the state by providing intelligent information that will make the exercise successful.