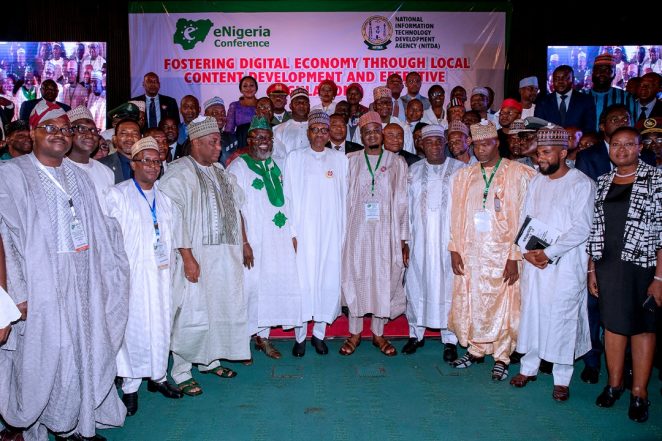 Make Nigeria Exporter Of ICT Hardware, Buhari Tasks ICT Stakeholders
By Abu Duniya
In line with Nigeria's resolve to diversify her economy away from oil, President Muhammadu Buhari has charged stakeholders in the Information Communication Technology (ICT) sector to leverage of the nation's population and brainstorm on ways of making Nigeria an exporter of ICT hardware in Africa.
The President who spoke in Abuja 
on Monday
 while declaring opened eNigeria 2017 conference organised by the National Information Technology Development Agency (NITDA) with the theme, 'Fostering Digital Economy through Local Content Development and Effective Regulations' maintained that there were huge opportunities for ICT use in the country in view of its population identifying job creation as one of the benefits.
"…There is therefore, need for deliberate efforts both from government and private sector to see to the realisation of this. I expect the conference to come up with viable recommendations on how to make Nigeria an exporter of ICT hardware in Africa", the President charged.
Explaining how the Federal Government has keyed into ICT, the President Buhari hinted that the implementation of the Integrated Payroll and Personal Information Systems has helped to eliminate the menace of ghost workers thereby reducing leakages in the system by saving government over N20 billion monthly.
"My presence here today is the demonstration of our commitment in strongly using ICT as the leading driver of our development and governance in economic reforms.
"On assumption of office, we enforced the currency single treasury account. Today, we are all witnesses to the impact it has made on our financial arrangement. We have so far consolidated over 20,000 accounts bringing it to about N4.7 million into our savings. In addition, the policy has indicated transparency, accountability and ease of transactions in dealings with government and businesses as well as government and its citizens.
"ICT is strategic in bringing about productivity and efficiency in core sectors of the economy. Currently, about four sectors of our economy have leverage on ICT in creating efficiency, productivity and performance. The sector has recorded huge investments and contributes over 10 percent to the nation's Gross Domestic Product (GDP)", he said.
Despite the huge benefits of ICT to the life of the nation, President Buhari regretted that about 80 percent of ICT hardwares were been imported.
"About 80 percent of ICT hardware purchases are imported through local distributors to ministries, departments and agencies and other government establishments making it difficult for us to benefit from the dividends of continuous consumption of ICT infrastructure".
To correct the imbalance, the president hinted that his government has issued an executive order for all tiers of government to patronise locally manufactured ICT hardwares and services.
"This administration recently issued an executive order mandating all ministries, departments and agencies to make preference to locally manufactured goods in their procuring Information and Technology services. Such measures are part of government's deliberate efforts at encouraging local manufactures of ICT infrastructure, creating job opportunities and widening investments opportunities as well as strengthening our currency", he stressed.
He listed the Corporate Affairs Commission, Federal Inland Revenue Service and the Nigerian Immigration Service as government establishments that have taken the lead in leveraging on ICT in delivering transparent and efficient services.