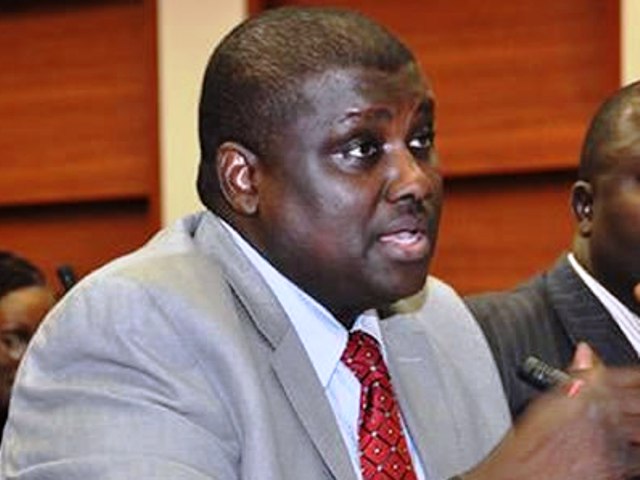 Corruption: Re-looting The Loot – By Kenneth Kaunda Adamu
"There's honour among thieves" is a well-known saying so should there also not be honour among activists? Human rights lawyer cum activist, Chief Femi Falana (SAN) would do well to think along this line as his ongoing grandstanding over allegations that he is a beneficiary of corruption amounts to tokenism taken too far.
Former chairman of the Pension Reform Task Team (PRTT), Abdulrasheed Maina, through his lawyer, Sani Katu, and infact the Attorney-General and Minister of Justice claimed in separate statements, one issued at Kaduna and the later at the Senate Hearing that Falana was the beneficiary of a recovered asset worth over N2billion but  bought for N1 billion. The allegation is that the property Falana has converted to his office in Abuja was one of the Properties the Maina led PRTT had helped the government to recover from pension thieves through the use if derivative powers if the EFCC, and that Mr. Ibrahim Magu, the acting chairman of the Economic and Financial Crimes Commission (EFCC) gifted same to Falana, who has taken ownership.
So far, the activist-lawyer's response has been nothing but derisive – a strategy he had successfully deployed in the past when faced with weighty allegations. This apparently works by reducing the substance of the allegation into a joke that will make keen watchers lose interest in knowing the final outcome.
His reaction has been to wax rhetorical by asking "Which house? Where is it located? Is it in Lagos or Abuja?" He further claimed he has never met Maina as if he needed to sit down with the former PRTT chairman at a drinking joint for the sale of the property in question to be consummated. Even more irresponsible was his claim that those in government instigated Maina to make the allegations because he, Falana, had been vocal in canvassing sanctions for all those involved in Maina's controversial reabsorption into service. These are all symptomatic of a man who erroneously believes his role as an activist confers on him a license to engage in impunity and go unscathed.
Far from playing the victim of a witch-hunt – for which he is insinuating that President Muhammadu Buhari and some of his cabinet members are behind his travails – Falana will do well to address the issue raised by Maina. He is at liberty to address other similar claims that have accused him of everything from compromise to hobnobbing with foreign enemies of Nigeria.
Maina did not hint at being under duress when he allegedly named Falana as a questionable beneficiary of assets seized from what he recovered for the Federal Government. The former PRTT boss is of course in a position to know what assets were confiscated from pension thieves  and certainly has the mental and emotional attachment to keep track of how the ownership of the said assets are changing hands, especially when he is being prosecuted for carrying out a very risky job that was assigned to him by the past administration.
It is noteworthy that Maina did not make the allegation as a snide comment but made Nigerians aware of same through his lawyer. He knows better than to make spurious claims.  Falana is a lawyer whom, I would think depends on his reputation to make a living. It is also curious that the firebrand Falana, who usually would have threatened crippling lawsuits, is barely whining in the lame attempt to clear himself in the allegations made against him. Falana has instead resorted to the kind of media manipulation that treasury looters had engaged in the not too distant past.
Falana's theatrics must however not detract from the reality on ground because it is immoral that assets are confiscated in the anti-corruption drive only to be looted again. There are vital information he must place in the public space since he has resorted to the media and court of public opinion as the choice of where he wants to clear his name.
First, Falana should categorically let Nigerians know if he has at any time bought property in the vicinity of N1 billion. His response to this will at least let us know that in addition to being a celebrity activist he might as well be a billionaire-activist. The country may just as well begin to look at his tax records and sundry in case other crimes have been committed. Of course, he is at liberty to claim he did not purchase such property, at which point those with the skills will try to see what they can use the Freedom of Information Act to uncover.
Secondly, Falana may want to shed more light on his relationship with the acting Chairman of the Economic and Financial Crimes Commission, Ibrahim Magu, and the transfer of certain property confiscated and handed over to him. The news has in the past been dominated with the kind of clean hands Magu operates with so there is little wonder that confiscated property are ending up with his cronies and those that have helped identified the legal loopholes to perpetually keep him in acting capacity.
Furthermore, since he is reportedly in possession of the building, it is important to verify that he did paid N1 billion for the property and that it was not simply "dashed" to him by those he had done hatchet jobs for. If the money is not paid his offence against the Nigerian state would be worse than that of those he had condemned in the past and should be measured by the standards he had set for others in the past.
For those who may think this is below the belt, the response is that this is to specifically call out Falana to answer his name as the allegation against him is a complicated and weighty one. He should stop compounding the problem by attempting to trivialize it and seeking sympathy from the court of public opinion. Buying a property from Maina led PRTT which was recovered from Pension looters, is not something to be discussed on the pages of newspapers, rather, its something over which he should hurry to clear his name by giving Nigerians information and documents relating to the property in question so as to clear his 'hard earned reputation'
Those who have stolen from those who stole from us are worse than the first thieves. So if Falana  fails to clear himself of this allegation he would be worse than all those we have condemned in the past for stealing from a suffering nation simply because they were given the opportunity to mourn or sympathize with the country.
It is imperative at this point that the Federal Government provide Nigerians with a detailed list of those who are re-looting the loot recovered from the Main a Led PRTT whose ingenuity recovered the loot from those that had pilfered the treasury. The latest allegations against Falana offer a vista into how some people hide behind the veneer of respectability to defraud the country and set back the anti-corruption war with their gilded images. It is a scenario Nigerians are tired of and for which they want to learn that the culprits have been sanctioned. If Falana becomes the poster child for stopping the theft of recovered loots then so be it.
Adamu K. K sent in this piece from Lokoja, Kogi State.