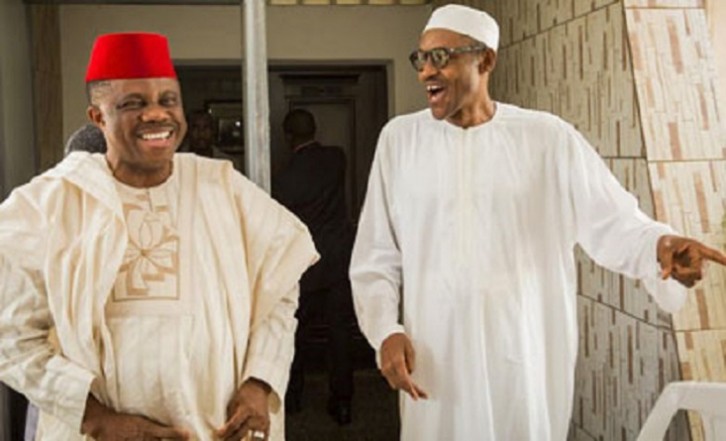 Anambra Elections:  Buhari, APC Disagree Over Governor Obiano
From Obinna Akukwe
President Muhammadu Buhari is still insisting that elections in Anambra State will be free and fair in line with the promises he made to Governor Obiano twice when the former visited him in Aso Eock, our contacts within the villa had insisted. The first visit to Buhari was on October 2nd and was brokered by powerful elements within Daura  in Katsina State, the President's home town who were convinced and induced that Obiano can be retained in Anambra State for security purposes. These elements helped broker the first meeting where Buhari told Governor Obiano that he is not particular about who wins the elections.
Days later, we were told that another more private meeting ensued between Buhari and Obiano and the sacked SGF,  Babachir was present. Governor Obiano raised concerns about issues bordering on INEC neutrality and change of security personnel and Buhari promised that nothing will railroad a free process.
Governor Obiano had earlier met with Mamman Dauta, Buharl's influential nephew who advised that the former joins the APC to make his return as Governor easier. Governor Obiano was said to have initially replied that he would rather pack his load and leave governors lodge rather than abandon APGA  later promised to give the idea a second thought. However, when the APC campaign for  Tony Nwoye kicked off and enemies of his ambitioby elements  were blocking mobilization of funds for his campaign, the medical doctor activist was given a cold reception especially by powerful elements within APC including Tinubu  camp  because they believe that an accord that Obiano will move to APC after winning elections has been reached already and any support for Nwoye is waste of funds.
Governor Ambode could not mobilize maximum support for Nwoye. Tinubu also told close friends that as long as Ngige will manage any campaign funds, it is not advisable because he is miserly with money based on past experience when late Chukwuma Azikiwe attacked Tinubu for not helping Ngige with funds for campaign when the former believed that they have sent enough funds to the former Anambra State governor but the funds were not seen on ground.
Nwoye's problems were compounded by Senator Andy Uba who used his clout within the party to ensure that Tony Nwoye who defeated him in the primaries was not acceptable by the APC power brokers. He told people that Tony is a rascal whom he brought up into limelight in PDP during Obasanjo presidency when he was moving about as students leader and singlehandedly made him PDP Chairman in the state. He described Tony Nwoye to his distinguished colleagues in the upper chamber as an ingrate who has no respect for seniority and rankings.  Equally Dr Chris Ngige former Governor of Anambra State was afraid that Tony Nwoye as governor will retire him politically. He also privately pointed at his ordeal as Governor when Nwoye led the people that burnt down government structures at Awka.. Therefore they gave a bad impression about the Nwoye governorship to APC stakeholders.
The APC aspirant was blackmailed and denied the much needed funds from the center. Chief financier Arthur Eze never bargained for the volume of funds he was releasing while the party stood akimbo. Governor Abubakat of Bauchi State, E;-Rufai of Kaduna State and Rochas Okorocha of Imo State had to start marketing candidate Nwoye afresh and had to beg President Buhari fulfill his earlier promise and visit  Anambra  State to give support to Nwoye. Had President Buhari visited Anambra State on the earlier scheduled date on November 4th, clear 14 days to the polls, the political equation would have favored the APC tremendously, given that Nwoye has his way round with the youth.
The APC and PDP were uncomfortable with the rapport between the Commissioner of Police, DSS and INEC with Governor Obiano.  The APC particularly pressed for change of CP'S ahead of the election to ensure neutrality. Thus while the ADC and CSO of Obiano was withdrawn, the rest over 200 policemen attached to him were left intact.. This was done, according to our sources within the villa, without the knowledge of Buhari . The IGP used his initiative, acting on existing petitions from opposition parties to effect a change of senior security aides of Obiano. Governor Obiano capitalized on the flaws and raised alarms which attracted widespread condemnation. Buhari had to order the reinstatement and privately queried the rationale for the action.
The battle had taken a new twist. Buhari has a soft spot for Obiano especially since the later helped to bring stability to Anambra State when IPOB were threatening with calls for Biafra. . All the security agencies have a favorable security report on him especially the handling of IPOB threat. . IPOB members accused Obiano of sending soldiers to kill their members while the governor insisted that he is securing the state from hoodlums who hijacked IPOB to cause mayhem..  The Chief of Army Staff Report on IPOB submitted to the President, , commended the efforts of Governor Obiano at bringing peace. Therefore, buoyed with all these evidences, Buhari has every cause to be comfortable with Obiano.
Another group within APC wanted Obiano to make a [ledge to defect to the party if he wins , the negotiations  seems to be tactically inconclusive ,to the discomfort of some persons within APC. However, Governors Abubakar,Okorocha, El Rufai group wants a takeover of Anambra State for the strategic interests of APC and national cohesion.. At the Awka rally, Okorocha begged Buhari to use his magic wand to make Tony Nwoye governor. That magic wand signifies federal might. He also complained to Buhari that Dr Ngige had refused to grow taller than his size. The message was that Ngige had refused to understand what is at stake in Anambra State. The occasion was used again to make Senator  Andy Uba endorse Tony Nwoye, ending weeks of rifts.
The problem is that President Buhari is in a dilemma. Obiano has done well on security and could as well be helpful in 2019. Tony Nwoye had surprised him with the level of massive support he garnered among political power holders across states. Who wins tomorrow's polls will be determined by Buhari's last minute body language. The heavy military presence in Anambra State has not yet been given any instruction to assist any candidate. Their brief is still limited to maintaining peace and stopping IPOB from causing mayjem.  Buhari seems to differ with  APC  leadership on federal might in Anambra State but the next few hours will determine who wins the race, and that depends on the President's body language,
–
(Obinna Akukwe, a cleric, writer, activist is the Director General of Igbo Mandate Congress IMC)
profetobinna2@yahoo.com, @ObinnaAkukwe,  facebook.com/obinnaakukwe­