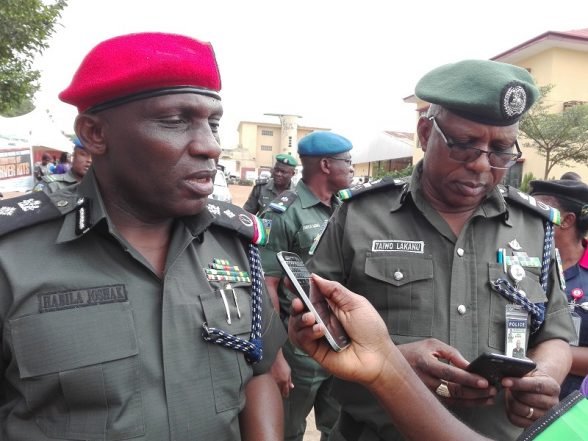 Anambra Poll: "Obiano, Others On Restricted Movement" – DIG
"Tell all VIPs that they cannot be accompanied by uniform personnel because that will intimidate others. People are expected to walk a short distance and cast their vote and go back home. No VIP, no government official, no individual should put onto themselves the responsibility of monitoring, except the press and accredited observers. International and national observers will be given an opportunity" bellowed the Deputy Inspector-General of Police in charge of operations, Mr. Joshak Habila as he marshalled orders and conditions of what is expected of government officials on election day.
It is recalled that it was Mr. Joshak Habila that ordered the sudden unscheduled withdrawal of Governor Obiano's security details – without prior knowledge to the Governor or the President. Habila had stated the security details were withdrawn to Abuja for a training exercise – that they were scheduled to return after the elections. But it took the intervention of the President – who directed Habila to reinstate the Governor's security details immediately. Habila did as directed and the security details were returned. Their return also came with the denial. Habila claimed the security aides were only temporally withdrawn – that they had no intention to keep away from the Anambra till after the elections.
On Friday, while speaking with journalists at the state office of the Independent National Electoral Commission (INEC), in Awka, Mr. Joshak Habila, warned that security personnel would not be allowed to accompany very important personalities at polling units during the conduct of the Anambra state governorship election on Saturday.
He made it clear that government officials, individuals, even governors or senators, would not be allowed to monitor the election. "The restriction of movement would be binding on all persons, except groups and individuals accredited to monitor voting".
Regarding the deployment of policemen to the state, Habila explained that an additional 21,000 police personnel have been deployed to join the existing 6,000 operatives in the state – equivalent to five policemen per each polling unit. This includes 300 hilux vehicles to be stationed around hot spots, 15 gunboats, and 3 helicopters.
He guaranteed that "there is no cause to fear. Virtually everywhere, you will have police officers and other security agencies prepared. I want to assure those who are getting afraid (that) do not believe that something is pursuing you when nothing is pursuing you. We guarantee you your safety and ask that you should come our tomorrow and vote so that you can choose the man you want to be at the helm of affairs. There is no cause to fear."
Habila also took the opportunity to discount the threat of Biafra agitators as mere child's play. He called the threat by IPOB as not serious. In his words, "It was never played during the electioneering campaign. I do not think that anybody will go and dust those things and play them anymore. If there is any one, then it is unfortunate. But I want to assure you that they were just antics. And that is why I say, vote and leave but not vote and die."