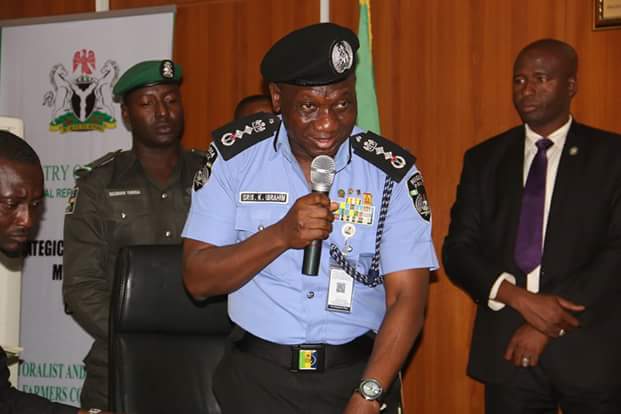 Press Release
Loading ...
The Inspector General of Police, IGP Ibrahim k. Idris NPM, mni, has ordered the dismantling of all roadblocks nationwide with immediate effect; particularly on the following routes, Lagos-Ibadan, Shagamu-Benin, Benin-Onitsha, Okene-Abuja, Kaduna-Kano, Katsina – Kano, Otukpo – Enugu, Enugu – Port Harcourt Express Ways. The directives became necessary to enable ease of doing business in Nigeria, safeguard, and guarantee free passage of goods and travellers throughout the country.
2    To this end, no Police department, section, squad or unit should mount road block without express permission of the Inspector General of Police.
Consequently, Assistant Inspectors General of Police in charge of Zonal Commands, Commissioners of Police in charge of State Commands, Heads of Departments, must ensure that every patrol vehicle in their respective Formation carries a conspicuous and legible inscription of Patrol vehicle identification number, and dedicated emergency Phone numbers for ease of identification and report of distress by members of the public. The Assistant Inspector General of Police in charge of Border patrol of the Force is specifically directed to ensure compliance with this directive along the Border routes in the country except the few approved points by the Federal Government.
Furthermore, Police personnel who involve in vehicular Patrol on highways and major roads across the country must wear on their uniforms a bold name tag and service number.
The Special X-Squad teams of the Force have been deployed throughout the country, they are under strict instructions to arrest, investigate and discipline any Police personnel violating this directive.
The IGP has also directed the Special X-Squads to embark on removal of other forms of illegal blockage and obstructions on Highways and Roads, created by unlawful Revenue/Tax collectors, Road Transport Unions, Labour and Trade related unions inhibiting vehicular movement and smooth passage of passengers and goods, and other road users across the country.
For avoidance of doubt, the Taxes and Levies act, Laws of Federation of Nigeria 2004 section 2 (2) disallowed any person, including a Tax Authority from mounting a Road block in any part of the Federation for the purposes of collecting any Tax or Levy.
7   While monitoring and ensuring full compliance of this directive by all the personnel of the Nigeria Police Force, the Force hereby advised the relevant State Governments, Local Government Councils, Boards of States Internal Revenue service, and various Transport Unions, Labour and Traders Associations that it is against the law for any organization to create a blockage to restrict or restrain members of the public the free usage of Roads and Highways anywhere in the country.
CSP JIMOH O. MOSHOOD
Force Public Relations Officers
Force Headquarters