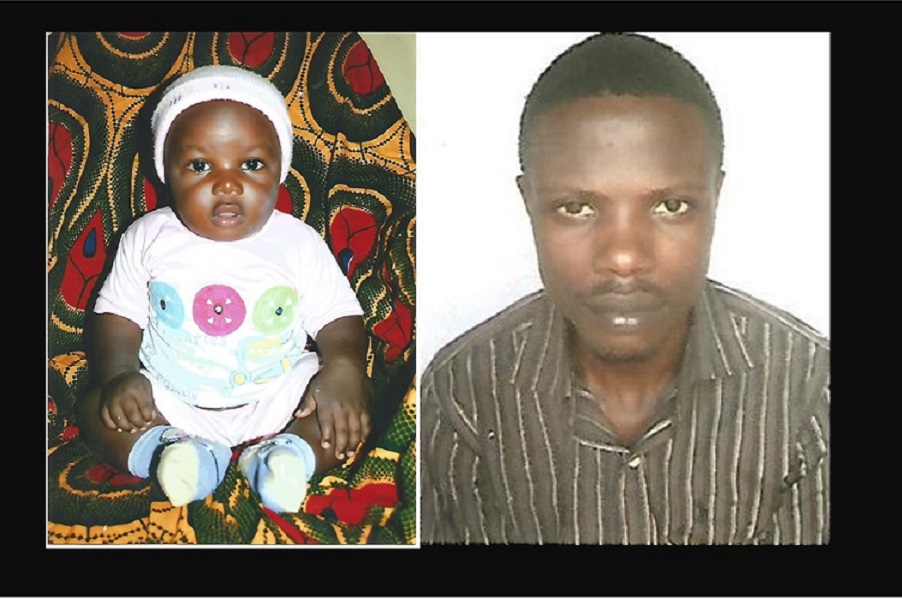 Loading ...
… As Father Calls For Justice
A middle aged man, Alex Arinze Nwaokolo, has purportedly sucked a 14 months old baby, Ibrahim Jibrim Dauda to death in his quest for quick riches.
The incident which occurred Sunday 4th of June, 2017 at Umuodofe, Idumugbe Quarters, Ibusa, Oshimili North Local Government Area of Delta State, left residents of the area with amazement over the rush by some youths to make hasty money.
It was gathered that at the early hours of that fateful day, the mother of the deceased, Rekiya Jibrim was in the kitchen preparing breakfast for her child whom our correspondent learnt played into the apartment of their landlord who was identified as Mr SundayDanastous Nwaokolo, the father of Alex, who allegedly sighted the boy, abducted him to his bathroom and used his teeth to open part of his neck and sucked the boy to death.
It was learnt that, while the mother of the victim, who could not set eyes on her child was anxiously in search of the deceased outside the compound, the suspect, it was gathered was inside the bathroom sucking life out of the boy.
The mother of the victim, Mrs Jibrim, who narrated her ordeal to our correspondent, said "on that fateful day, I and my son went to visit my aunt at a nearby village by 8:00am; I was back home and was preparing food for my son, when I started looking for him. I searched everywhere both the house of my landlord, Mr. Sunday Danastous Nwaokolo for no avail, after an hour, Nwaokolo and his wife came back from a burial and I told them I am looking for my son, and Mrs. Nwaokolo went inside the house searching for the son Alex, suddenly, we heard a shout come oo! I don see Ibrahim, I ran inside and saw my son half dead. When we rushed him to the hospital, he was confirmed dead by the doctor; it was there the doctor discovered bite on his neck and told us that the boy has neither blood nor water in his body".
Speaking to the victim's father, Jibrim Dauda he said "I need justice", the person who killed my son will not go unpunished, while calling on security agents to look for the son's killer.
Investigation revealed that, Alex Nwaokolo who is a graduate of Rivers State University of Science and Technology came back to Ibusa on Tuesday 30th of May, 2017 shouting; "I need blood! I need blood!!" on Saturday of that same week, he lured Ibrahim to his room while nobody was at home,
After committing the act with full knowledge of the boy's death, Alex escaped into a nearby bush but later reappeared on Monday at the Ibusa Police Station where the parents were detained.
A police source at the Ibusa Police Station disclosed that Alex owned up to the crime after submitting himself to the Divisional Police Officer (DPO), in order to release his parents but could not reason for his action.
Meanwhile, the father of the suspect, Mr. Sunday Danatous Nwaokolo, claimed that his son was not feeling fine at the time he returned from Port Harcourt, "I bought him some drugs and I believed he took overdose that was why he was acting strange. When he said he wanted to kill somebody! He needed blood we taught he was joking not until this act was committed".
Confirming the incident, the Delta State Police Public Relations Officer (PPRO), DSP Andrew Aniamaka said "this is a man against humanity. It is an issue of youths getting rich before their time".
The Command's spokesperson disclosed that the suspect has been arrested and has testified to the crime while investigation is ongoing, noting that the suspect has been charged to court and remanded in Ogwashi-Uku Prison.
The Police Image Maker urged parents to be careful at all times while monitoring their children on where and how they move to avoid similar incident that youths who felt money making in dubious way is the right way would face the wrath of the law.