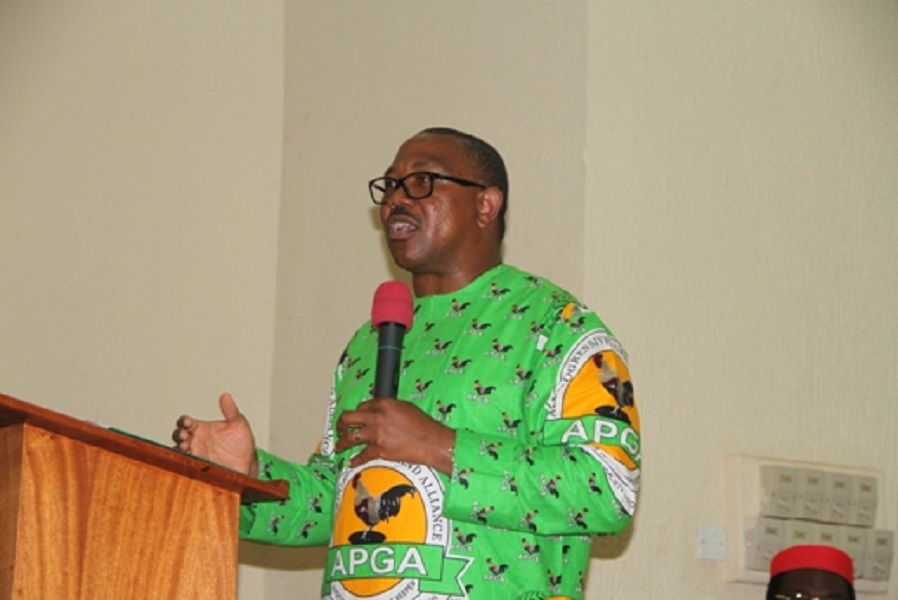 I write this piece from a point of authority, as I am amongst the pioneer members of APGA. As one of the oldest member of our great party, who has been stabbed and caused injuries of all manners from different quarters; despite my time, resources and labour for the party.  I remain a steadfast onye APGA.
Worthy to mention here is that I am very instrumental to the election of Mr. Peter Obi the former governor of the state. Without being immodest, I brought him to contest under APGA with the initial campaign slogan "ARE WE THE CAUSE OR ARE WE CURSED: BUILDING ANAMBRA FOR THE FUTURE OF OUR CHILDREN".
My blood was first drawn by the same Mr. Peter Obi, who denied me my aspiration of going to Federal House of Representatives. He called me and told me to jettison my aspiration that an Obi, Obi from the same Agulu community cannot be governor and a member of the House of Reps. Thus my aspiration was sacrificed and Uche Ekwunife was given the mandate and I worked tirelessly to deliver Uche Ekwunife. This is one of the many instances of inflicted injuries and I am still steadfast in APGA,
For little misunderstandings, most of these people and others like them jumped ship.
To the crux of the matter, gone are the days when the uninformed claim that "IGBO ENWE EZE" I stand firm to tell them that: "IGBO NWELU EZE"
Igbo Kwenu!
Today, I make bold to say that Igbo nwelu Eze in Akpokuedike Aguleri, Chief Willie Obiano. APGA has been waxing very strong under his able and focused leadership with that of the national chairman Ozonkpu Victor Oye. I put it on record that APGA will soon take over all the South East states. Be it equally known to discerning Ndi Anambra that APGA will be our bargaining power with the central.
The kangaroo judgment of Justice Ozoemena is a judgment in error that will be quashed from a higher court and it confirms President Muhaamad Buhari's earlier assertion that the judiciary is corrupt and a big problem to his administration.
Agbaso is a broke man looking for settlement. I don't want to delve deep into his antecedents. Agbaso is not even accepted from the community he comes from. The 419 they did to their brother in law Rtd. General Marwa is on record.
Agbaso decamped to the PDP in an open rally and to the best knowledge of Ndi APGA has not returned as a prodigal son. His inconsistent character caused his elder brother, the former deputy governor to Rochas Okorocha his post.
We know the desperate politicians. And I ask, is it Rochas with his Jos address or Jim Nwobodo who in his days at NPP was shown his real father of hausa extraction by NPN, that want to lead an APC that will take over Anambra state. All this hausa men in Igbo regalia cannot lead Ndi Igbo. What happened to them in Rivers state will be child's play. APC will definitely meet their waterloo in Anambra state gubernatorial come November 18th. Ndi Anambra with their votes will show them how united we are in our belief in APGA and His Excellency Chief Dr. Willie Obiano.
Peter Obi has gone cap in hand to prostrate at Ota. Begging Obasanjo and liaising with him to deliver his godson.
Peter has forgotten too soon that Obasanjo in 2010 at Holy Trinity field Onitsha told Ndi Anambra that he will compensate his godson with the governorship of Anambra state; meanwhile Peter Obi was in pursuit of his second term in office. Obi forgot that Obasanjo made true his threat.
I was steadfast with him (Peter Obi), to say the least; I was his moral backbone even when he has lost all hope. How forgetful can man be?
Jim Nwobodo's Savanna bank was taken over till date by the same cabal.
So, tell me how these two Italians and a Jew can ever make a workable deal?
NDI ANAMBRA IS WAITING.