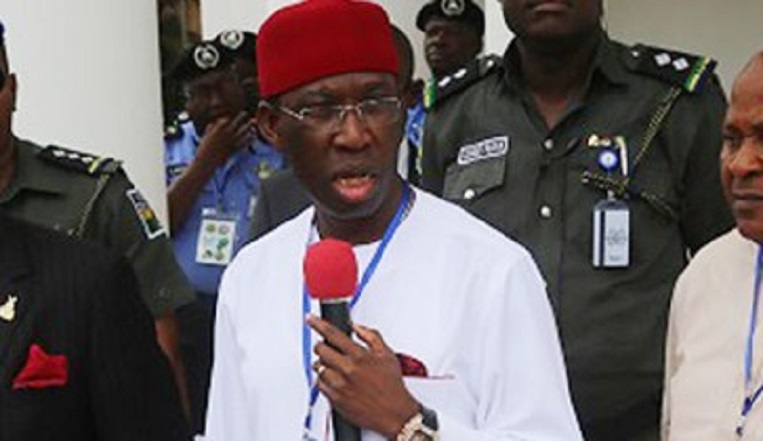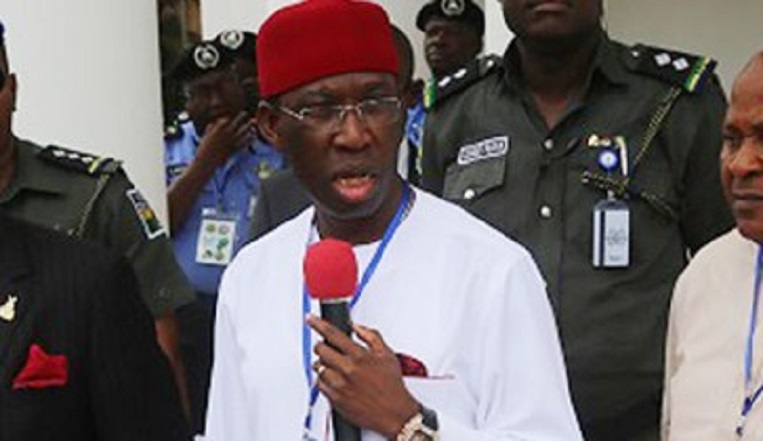 Delta State Governor, Senator (Dr) Ifeanyi Arthur Okowa, has ran to the Court of Appeal to buy time for himself over the judgment given by the High Court II sitting in Ughelli in favour of an Asaba based businessman, Mr. Gideon Ekpele Nwaomu, with the business name, Giddys Place over the destruction of his business premises by the past government of Dr. Emmauel Eweta Uduaghan.
The Court on Tuesday, March 22nd, 2016, in its wisdom rejected the dubious claims as reason for the destruction of Giddys Place by Dr. Emmanuel Uduaghan's led government and ordered the state government to immediately re-open the sealed premises of Giddys Place within seven days of the delivery thereof and pay exemplary damages of N200 million.
In a press statement obtained in Asaba, by 247ureports.com Mr. Nwaomu said, "I have resorted to a 7-day "Sit-Out" protest in front of his business premises, located by Ekwumekwu Roundabout, also known as Inter-Bua Roundabout, Okpanam Road to press home his demand for the Delta State government to respect the judgment of the court over his destroyed properties and means of livelihood".
According to him, "I am taking an oath of silence and abstinence throughout this seven days Sit-Out. And each of the seven days is symbolic as it represents each month of the past seven month since the judgment was handed down in my favour. Therefore, this statement explains the reason for this Sit-Out; which of course is to draw the attention of the relevant stakeholders and the general public of my plight, and to prevail on the state government to respect court order and save me and my family from further pains and penury".
The business tycoon pointed out that at the Delta State High Court II sitting in Ughelli, on Tuesday, March 22nd, 2016, in its wisdom rejected the dubious claims as reason for the destruction of Giddys Place by Dr. Emmanuel Uduaghan's led government and ordered the state government to immediately re-open the sealed premises of Giddys Place within seven days of the delivery thereof and pay exemplary damages of a specified amount. Regrettably, nothing has been achieved.
Mr. Nwaomu whose rising hope was dashed by the present government said, "With the emergence of Senator Ifeanyi Okowa as governor of Delta State, I extended hands of fellowship and called for truce to resolve the matter outside the court. This was in October 2015 and with the assistance of Hon. Patrick Ukah and Hon. Fidelis Tilije, I met with the Commissioner of Justice, Barr. Peter Mrakpor and requested that we settle this matter more so, as my brother Senator Okowa sits as Governor and as such would not want to engage him in legal battle".
He noted that although efforts were made, "but the government lawyer, Barr. Ken Mozea SAN averred that he will win the case for the government and refused to send brief to Barr. Mrakpor and the case continued. Subsequently, when he filed for the final address, my lawyers had to file their own in January and the judgment was eventually given in my favour in March 22, 2016", he disclosed.
while noting that he has made several cordial efforts to reach out to the state government to seek speedy resolution of the matter, he said "for the past seven months and three weeks since judgment was entered into, the state government has not made any substantial offer to assuage the years of pains and economic deprivation I and my family was subjected to", revealing that several gestures and proposals based on goodwill were placed on the table and discussed, but implementation has up until today stalled.
"Recently, I reminded the representatives of government led by the Secretary to the State Government (SSG) Barr. Festus Ovie Agas, that on November 15 2016 which today will make it five years since Giddys Place was destroyed. They answered in the affirmative and promised they will make sure the issue is resolved before today but here we are nothing has been done. The state government made an offer, and I made mine, and they said ok, they will go and discuss with His Excellency, Senator Arthur Ifeanyi Okowa, Governor, Delta State and get back to me. Sadly, their body language, suggests they don't see the matter important enough to give a serious attention for speedy resolution. Or could it be a case of there is nothing he can do, that they are treating me with disdain? He asked.
Continuing, he said, "confronted with what seemed like a calculated attempt to delay my hard earned justice and in the quest to continue the plot to frustrate me in line with Dr. Uduaghan's agenda; so I have decided to bring my grievances to the public domain, so that people can help prevail on the state government to respect court order and save me from penury.
According to him, "are they waiting to read my obituary before they will obey the court order? What offence did I commit that they are treating me with disdain? These are two questions I earnestly will like to get answers for, he stressed.
"People may not know what I am passing through but my immediate family and close associates knows. Only recently, I was rushed to the hospital and subsequently put on bed rest for days over a sudden illness not unconnected with bottled up pains occasion by the destruction of my means of livelihood and my current travails in the hands of the Delta State government among other issues of life".
"My wellbeing and that of my family has been impacted over the past five years by the action of the Delta State government, which was why the court in its wisdom awarded exemplary damages. The demolition of Giddys Place, was described as an affront on the collective psyche of human race and attempted to ridicule the judiciary and justice system in Nigeria".
On the non-implementation of the Court order by the Delta State government, he said, "it represents huge losses not just to me and my immediate family but to the entire society. For the avoidance of doubt, Giddys Place up till the day of its destruction, represented not only a major recreational and entertainment centre in the capital of Delta State, it also represented a major tourist attraction in the state, as well as an incubator for budding musicians, comedians, actors and actresses whose careers sprung off as a result of the opportunities and platform provided at Giddys Place to try out their talents".
He recall that a good number of Nigeria's popular stars in the entertainment industry started from Giddys Place. The highly referenced natural relaxation centre in Asaba, Delta State is known to have hosted high profile events such as the famous Star trek of Nigerian Breweries PLC with the likes of Tuface Idibia, Faze, P. Square among others featuring. Also, in 2003 during the Cable News Network (CNN) documentary on Delta State and its tourism CNN crew anchored by Lola Alakija and Mr Chris Obi for CNN, the state government brought CNN crew to Giddys Place as entertainment hub and tourist attraction in Delta State. And up till three days after the destruction, precisely, 18th November, 2011, Giddys Place was cited in the state website as a beacon of tourist centre in Delta State. It was later removed from the website on November 8, 2016 when people were referring to the website and wondered why the state government led by Dr. Uduaghan would brand Giddys Place as a den of robbers as reason for its destruction, a place prominently displayed on the state tourist website. What an irony?
While stressing that he refused to get stuck in a social coma occasioned by, "a faulty system fuelled by political intrigues and impunity", he commended the brave stand taken by some judges and lawyers that stood tall to uphold the rule of law throughout the legal battle and also the courageous stand taken by some citizens to speak out against injustice and defiled government order to isolate and treat me as government outcast, saying, "my life is in God's hand. I am doing what I am doing today as the only means I know of to demand for my rights as a Nigerian".
Going down memory lane, the business magnet said, "it is exactly five years today (November 15, 2016) that the state government led by Dr. Emmanuel Uduaghan destroyed Giddys Place in his quest to hunt down perceived political opponents and their businesses. I was targeted because I refused to accept Uduaghan's failures as success. I spoke out against falsehood and lack of vision because I believe our children deserve a life of truth, honesty and good governance, which was very elusive under Dr. Uduaghan's watch as governor of Delta State", he explained.
Speaking further, Nwaomu said, "As an aggrieved Nigerian, and with the infinite mercies of God, I resorted to the Court to seek redress of the injustice perpetrated against me and my family. And by divine providence the judiciary being the bastion of the oppressed, rose to the occasion and justice was dispensed with high standard of probity, accountability and transparency".
"It is not been easy; the sudden destruction of my business and the five years gruelling legal battle with the state government took a big toll on my wellbeing and family". He lamented.
Responding to a question put across to the Commissioner for Justice and Attorney-General of the state, Mr Peter Mrakpor, who affirmed Nwaomu's victory said, "yes, he went to court, he got judgment. We went to the Court of Appeal. We have started interfacing, I don't need to lobby him because I am not the one going to take the land. You have a judgment, we have been talking, it is a process that is on. As to figures, people throws up negotiations. It is good we talk. We have every opportunity to go to the higher court".
Also, the Commissioner for Information, Patrick Ukah who flared up said, "those of you who goes there to drink…everybody knows how close I am to Giddys. When a court slam money on government, will it just run around and pay the money especially at this time that the country is going through recession? A very responsible government will go into negotiation", he said.