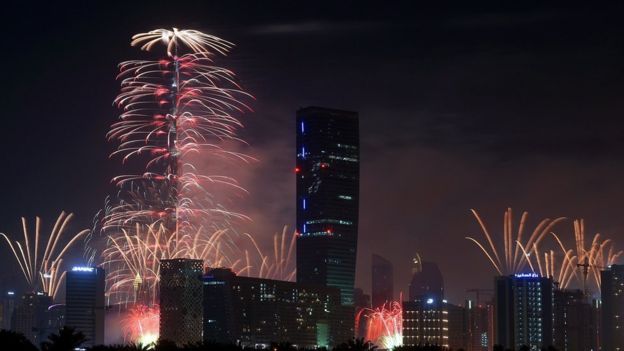 Celebrations are under way as people around the world ring in the New Year.
From Sydney in Australia to Pyongyang in North Korea and Moscow in Russia, crowds gathered to say goodbye to 2016, a tumultuous year in global politics.
Many cities around the world have stepped up security for New Year's Eve celebrations, after a year in which attackers drove lorries into crowds in Berlin in Germany and Nice, France.
Thousands of extra police are on duty in London and other cities.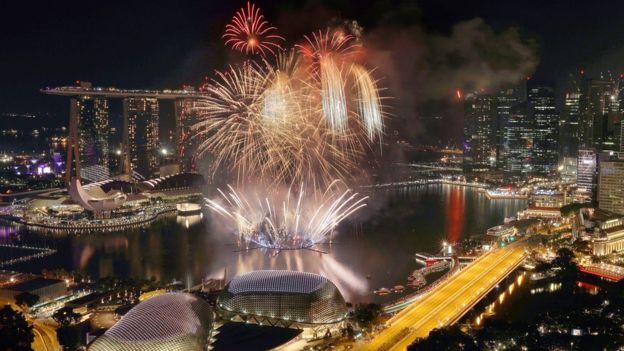 In Paris, Madrid and New York, concrete barriers and heavy goods vehicles are in use to block off central squares where crowds gather to celebrate.
Some 17,000 police officers are on duty in the Turkish city of Istanbul, with some disguised as Santa Claus and street vendors, the state-run Anadolu news agency reported.
The Russian capital Moscow is among the latest world cities to welcome 2017, an hour after fireworks lit up with world's tallest building, the Burj Khalifa, in Dubai.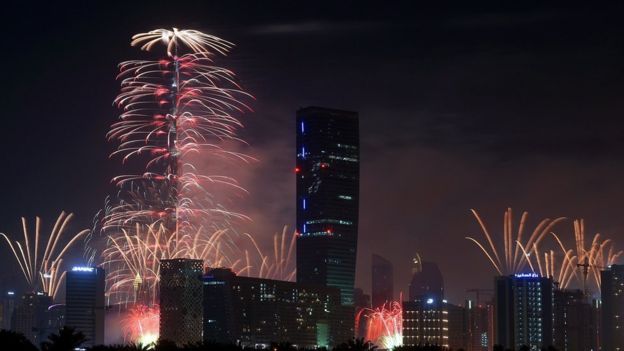 Pacific islands including Samoa, Tonga and Kiribati were the first to enter 2017 at 10:00 GMT, followed an hour later by Auckland, where fireworks erupted from the 328m (1,080ft) tall Sky Tower in the city centre.
The iconic midnight fireworks display at Sydney Harbour in Australia paid tribute to Prince and David Bowie, two music superstars who died in 2016.
Seven tonnes of fireworks were set off in two displays watched by about one and a half million people.
Israel has also warned its citizens travelling in India to avoid crowds, saying there is a risk of imminent "terrorist attacks".
'Many enemies'
Meanwhile, US President-elect Donald Trump tweeted New Year greetings, including to his "many enemies".
Mr Trump will be sworn in as US president on 20 January.
A "leap second" will be added to the countdown in countries in the GMT timezone including the UK to compensate for a slowdown in the Earth's rotation.
The extra second will occur just before clocks strike midnight and a time of 23:59:60 GMT will be recorded, delaying 2017 momentarily.
This is required because standard time lags behind atomic clocks.