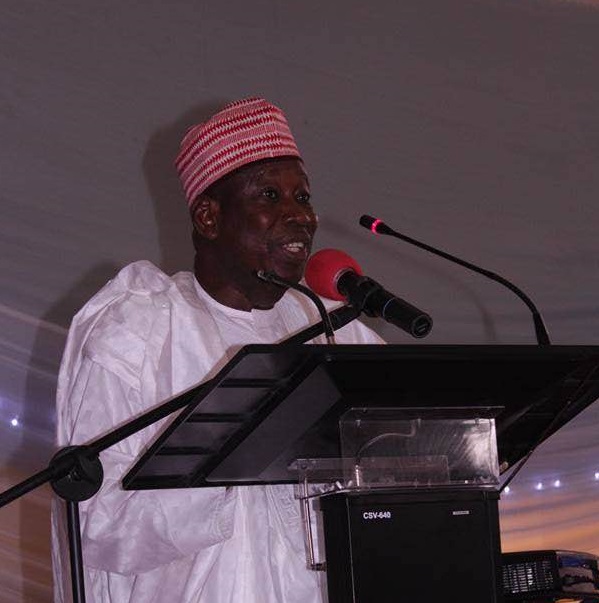 Currently, Kano helmsman, Dr Abdullahi Umar Ganduje is in   Republic of China. He was there to facilitate his ambitious $1.85bn Kano Light Rail Project in conjunction with  China Railway Construction Group CR18G-CRECG.
Nobody  is  in doubt with respect to the need of cheap and an efficient transport system in Kano, as private cabs, KEKE-NAPEP (A Daidaita Sahu) and even Jakara-Kasuwa Bus commuters are inadequate, sub-standard and are largely accident prone. The Light Rail transport will definitely ease traffic congestion, create jobs and ginger more economic activities.
According to explanations the project is structured in such a way that 85% of the amount ($1, 850,839,098.00)  is going to be sourced from China Development Bank. This amount is equivalent to over N721billion at the official exchange rate and over N851billion at the current parallel market exchange rate. The balance of 15%  of the contract sum amounting to $277.5million dollars (N127 billion naira) is to be locally sourced by Ganduje administration.
It was agreed according to the MoU prepared by Mustapha Bintube of Burqa Capital Ltd, that the first phase of the construction was billed to take two years, while the second phase of the four-line rail was expected to take another two years. And upon completion, the light rail is expected to cover Janguza-Bata, Jogana-Bata, Dawanau-Bata and Kwanar Dawaki-Bata routes in Kano city.
Obviously, this is a white-elephant project. A kind of which just yesterday speaker of the House of Representative Yakubu Dogara in his response to 2017 FG budget presentation urged PMB to add in his menu along corruption which he intend to kill before it kill Nigeria.
Why I said so? were will Kano state government source its counter fund to this project?. Assuming the project will run smoothly as scheduled how will government in four years provide such huge amount of money, this will necessitate a budgetary provision of #55bn every fiscal year to cover for state obligation. But a paltry sum of #575m was provided as a take off in this year's budget. This  indicates clearly  a lack of seriousness on the part  of government and is a pointer that at half-way the project will be abandoned.
But where the problem lies is how Kano will repay the #721bn loan they took from Chinese? Using simple calculation it may take 40 uninterrupted years at an average of #18bn per annum to settle the principal amount of the loan.
I did not subscribe to this white-elephant project now. It will impact little to the economic wellbeing of Kano. Instead  I will loved to see Kano aligned itself with economic direction of the Federal Government, which seek to curb import, promote export, diversify to non-oil sector.
A serious government will channeled its overstretched resources in executing meaningful and sustainable projects. Commerce, manufacturing and agriculture which remain the bedrock of economic activities and growth  especially in Kano  but unfortunately  these sectors were badly represented  in both outgoing 2016 budget and incoming 2017 budget proposals.
In place of these white elephants projects, at this trying times, the appropriate things to do is to scout for ways to revive our commercial activities through remodeling and modernizing our existing Markets, providing capital start ups for small businesses and going back to the drawing board with regards to Kanawa International Market.
Again the responsible thing to do is to engage FG to intervene through trade and investment ministry in whatever capacity to come to the rescue of moribund companies and those producing at half capacity in the Tannery and Textile sectors. And also seize opportunities abound in rice, tomato, maize and wheat farming and their value chain. Our idle youth will be seriously engaged.
Why our expected resources could not be  use to address the lingering problem associated with the take off of Zawaciki Dry Port, Kano Commodity Market and to pursue vigorously the Padded Rice Program at Magaga in conjuction with MARDITECH of Malaysia to become a reality? Are our Gurasa in Jakara, Rini in Kofar Mata, Dukawa Leather works and Tailoring spread in urban, semi urban and in some cases rural areas cottage industries not in dire need of government intervention?
These  efforts  if undertaken are more sustainable, more impactful and more capable to spur growth. But embarking on this type of projects will add more burden to the already overstretched expenditure of Kano and its people, and is repeating same blunders committed by previous administrations. The Light Rail project is not in the best interest of Kanawa.
Bello Muhammad Sharada
writes from Kano, he can be reached atbellosharada@gmail.com