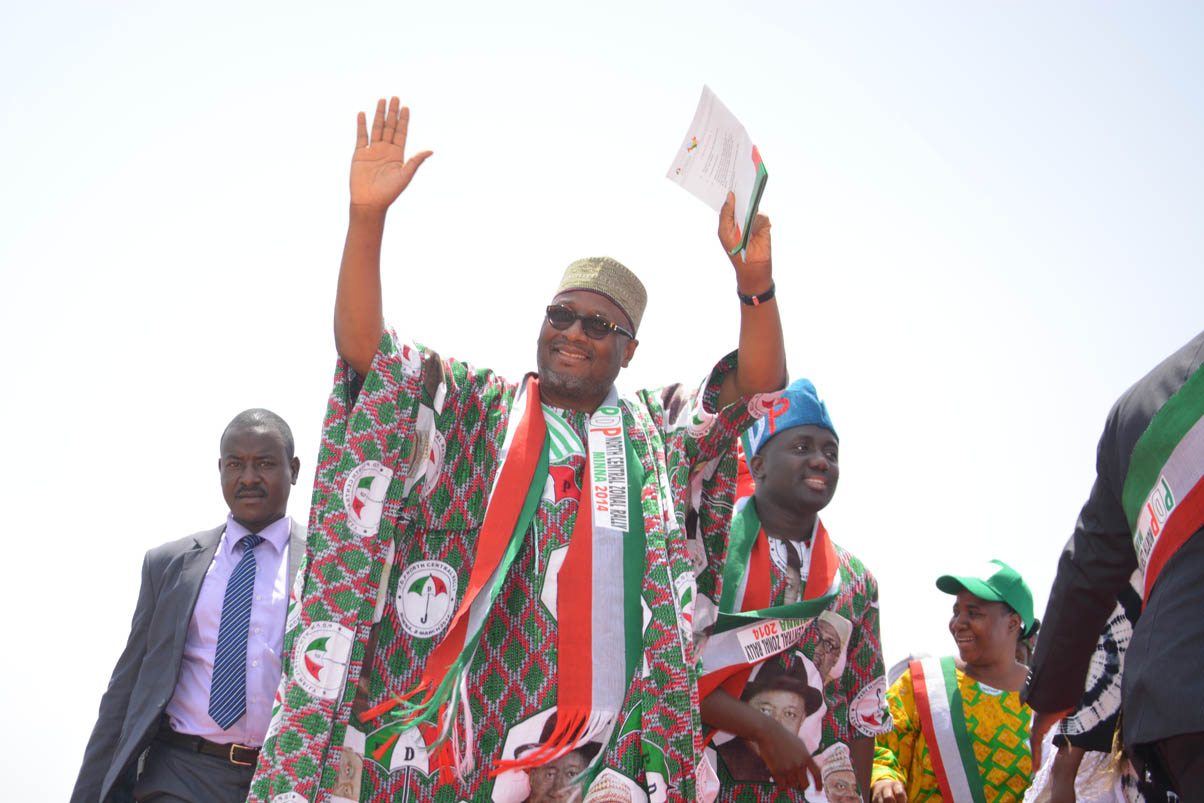 Loading ...
Information available to 247ureports.com from competent sources within the various security outfits of the federation indicate that the former chairman National Chairman of the Peoples Democratic Party [PDP], Malam Adamu Mua'zu may have been on the run since February of 2016 following the arrests of some of PDP executive officers. According to the information obtained, the former chairman bolted out of the country shortly following the presidential elections that brought about the new administration of President Mohammadu Buhari. Mua'zu left Nigeria in late December of 2015.
The former national chairman of the PDP is said to be on the run – shuttling between United Kingdom and Dubai. His reasons for setting off on the run borders around his involvement in Dasukigate. Sources within the PDP reveal that Mua'zu was principally involved in the disbursement of the security funds for personal favors and campaign expenses. Particularly, the funds dispatched to the former Chairman were said to have been horded by the former chairman – and transferred to private business accounts located in banks in Singapore and Dubai.
A significant chunk of the funds, as gathered, were to be dispatched to the former for the purposes of bribing the various election officials and officers to enable a smooth sail victory for the gubernatorial candidate, the state legislators, federal legislators and the presidential candidate. Our source claims the former chairman failed to make the funds available. The source estimates the sum at N500million.
The source adds that the former National Security Advisor [NSA], Col. Dasuki had operated in tandem with the former PDP chairman. "They butchered the money together like Xmas goat" stated the source as he explained that Mua'zu was as involved in the criminal crime as Dasuki. "It was Mua'zu who controlled the distribution of the funds and not the security office."  His case concerns utilization of public funds for PDP campaigns.
With the arrest of the oil mogul Omokore, and the two PDP stalwarts Secondus and Olisa Metu, Adamu Mua'zu opted to refortify his fortress in Dubai. He decided against all his previously planned visits to Nigeria. Some of his political associates reveal that they had expected Mua'zu in Bauchi severally but was left disappointed by his unannounced absence.
It remain uncertain if the security operative will put in process the arrest of Mua'zu in Dubai. But a security source revealed that Mua'zu had already opened up communication channels with the Attorney General of the Federation, Malami and the nephew to the President, Maman Daura. The extent to which the discussion had gone remains uncertain to our source.
247ureports.com made contact with the former chairman concerning his decision to stay out of the country for a prolong period. His response was near comical – as he told our reporter in a text message to go "see ben bruce for common sense".
–
Stay tuned for the complete report