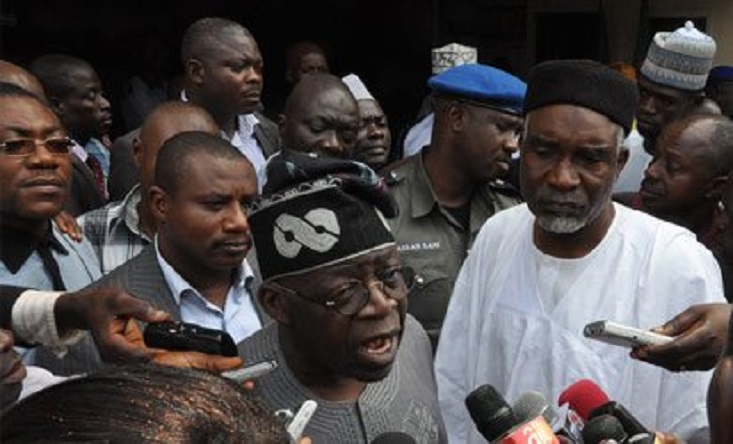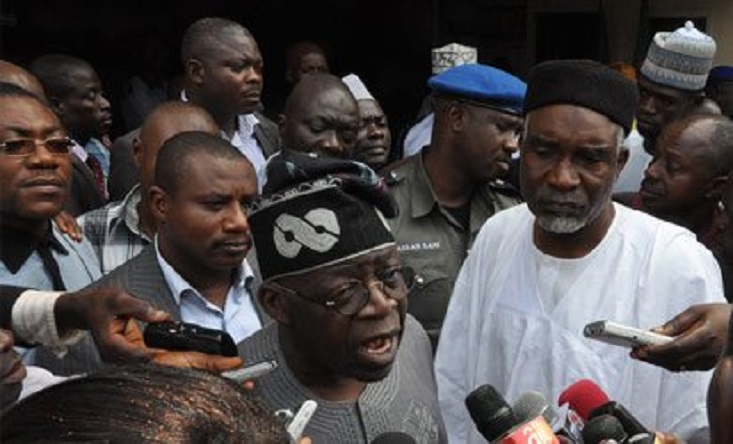 The National Leader of the All Progressives Congress, APC, and owner of the Nation Newspaper, Bola Tinubu, has returned his own share of the N9 million received from the Office of the National Security Adviser, ONSA, through the Newspaper Proprietor Association of Nigeria, NPAN.
This is coming after the Sun Newspaper also surrendered its own share to the Federal Government and as the Punch Newspaper also suspended its membership from the association following its involvement in the arms scandal.
Recall that investigations from the Economic and Financial Crimes Commission, EFCC, had traced a suspicious transfer of funds from the former NSA, Sambo Dasuki to Newspaper outlets including Tinubu's own Nation Newspaper.
Obviously embarrassed by the trend of events following the arms scandal, Tinubu may have pressed on his company directors to file an explanation and immediately return his own share of N9 million received.
"We are again compelled to comment on the N9 million received by Vintage Press Limited as compensation from the government of ex- President Goodluck Jonathan through the Newspapers Proprietors Association of Nigeria (NPAN) for the seizure of our publications, The Nation and Sporting Life in June, 2014.

"We do this for two reasons. First, to restate the sequence of events that culminated in the payment , thereby debunking insinuations about the motive for the compensation. Second, to inform the public that the N9 million collected from NPAN on behalf of the Jonathan government has been returned to the association .

"This decision was arrived at on Wednesday by the Board and Management of Vintage Press Limited after a painstaking examination of the legal and moral issues arising from the compensation."
See: REVEALED: How Tinubu company received N10m from Dasuki
"In our first comment published in the Saturday, December 12 edition of The Nation, we provided the background to the compensation. We recalled the mindless, illegal and unjustified seizure of thousands of copies of both titles by soldiers in major cities and towns across the country.

"Not only were copies of both papers impounded, our vehicles and drivers were arrested and detained in military barracks. They were released very late, in some instances at 7pm, when it was practically impossible to put the consignments in the market.

"We know of no other newspaper that was so harassed and maltreated by soldiers who claimed that they had intelligence reports that newspapers vehicles were to be used by insurgents to ferry arms.

"Our response to this unjustifiable infringement of our rights was go to court to get justice and ask for Compensation. We briefed the legal firm of Femi Falana (SAN) to institute an action against the government and the military authorities and demand N300 million compensation."
See: Tinubu's name pops up on long list of alleged looters
"Soon after the clampdown, Jonathan hosted the NPAN in Lagos and the issue of compensation was raised with him. He promised to get back to the association through its president, Nduka Obaigbena the publisher of Thisday.

" Obaigbena later briefed members that the government had agreed to pay N10 million to each newspaper. A mail followed from the association asking newspapers to submit their statements of claims for compensation.

"This development was discussed with our lawyer who advised that the N10 million compensation was reasonable, following which we resolved to stay action on the suit .

"At subsequent meetings in Lagos and Abuja , NPAN assured members that the government had not changed its mind . At the Abuja meeting in March but year, the association resolved that N1million be paid by each newspaper on receipt of the N10 million towards the acquisition of a befitting corporate office for it.

"In May, the secretary of NPAN, Mr. Feyi Smith, brought a draft for N9 million to Vintage Press Limited. The draft was accepted in good faith, believing it was from the account of the association and also from the appropriate department of government.

"Who was in a better position to deliver a draft from NPAN to Vintage Press than the NPAN secretary? Vintage Press, like other newspapers that received drafts/cheques from the NPAN, did not know that the money was paid to a private company by the Office of the National Security Adviser (ONSA) and from funds collected by that office specifically for the procurement of arms ?

"This was until The Nation, in its edition of Friday, December 4, published details of the stupendous sums of money collected by individuals and organisations from the ONSA."
See: Tinubu clutches tighter to Dasuki loot
"Now, the source of the payment to us is beyond contention. We now know it came from the ONSA and routed through a private company, General Hydrocarbon Limited.

"This company is unknown to NPAN. Facts in the public domain show clearly that the money the company collected was for 'energy consultancy.

"That this company would collect the compensation on NPAN's behalf was never disclosed to the association in line with corporate best practice. As a business that subscribes fully to the tenets of sound governance, we are not at ease with this revelation.

"We are also uncomfortable with the revelation that the compensation was from the money earmarked for the purchase of arms for troops fighting insurgency.

"This point was stated clearly in our editorial of Wednesday, December 23 in which we said: 'it is unclear to what extent the extension of the anti- terror war was due to fraud – related factors. But it is clear enough that the war effort was deliberately hampered by fraudulent activities."

"It is a shame," we said further, "that there is even a possibility, however slim, that media players helped to create an enabling environment for terrorists, wittingly or unwittingly, by linkage with Dasuki.

"In the light of the foregoing, Vintage Press Limited, publishers of The Nation and Sportinglife, on Wednesday resolved that the N9 million compensation be returned to the NPAN for onward delivery to the source of the money. A draft for N9million was handed over to Mr Smith today in Lagos.

"The Board and Management of Vintage Press have also resolved not to resume the legal action it asked the firm of Femi Falana (SAN) to initiate against the government and the military authorities but to regard the losses incurred during the period as part of the sacrifice The Nation has made to the enthronement of a new order in our country.

"It was noted with satisfaction that no law of the land was breached in asking for compensation and receiving same from the government but that with the sordid disclosures about the ONSA, Vintage Press cannot in good conscience regard the compensation as a closed case on which nothing can be done.

"However,, we find most uncharitable the infantile claim that the compensation was meant to compromise us."
–
Source: http://www.post-nigeria.com/why-i-collected-n9million-from-dasuki-tinubu/