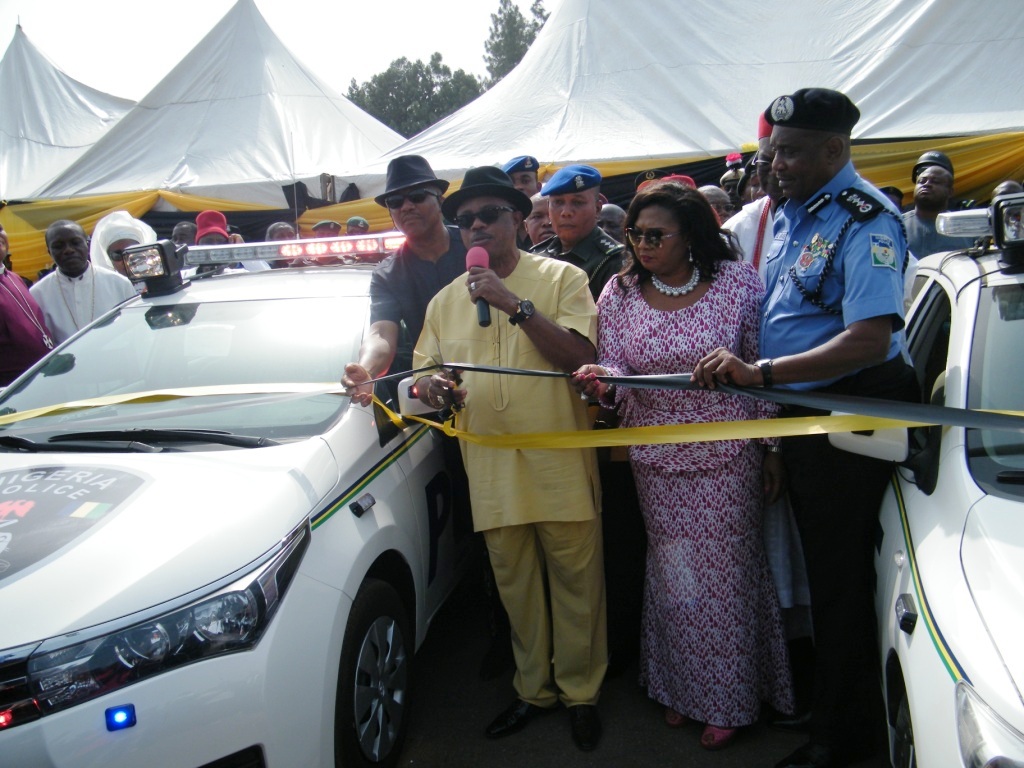 The governor of Anambra State, Chief Willie Obiano took crime fighting to a higher level when he flagged off the 25 highly equipped patrol vehicles, Speed Guns  to track over-speeding vehicles, Alcohol Detecting kits and other special kits that will aid crime detection and prevention which  he  donated to the Nigerian Police.
Does Buhari Have A Plan To Improve Nigerian Economy?
No (70%, 1,107 Votes)
Yes (30%, 465 Votes)
Total Voters: 1,572
Loading ...
Disclosing this
on Friday
(
December 11, 2015
) when he presented the equipment to the Inspector-General of Police, Mr. Solomon Arase, governor Obiano in a speech titled, "Re-Focusing our Crime-fighting Strategy in Anambra State ," observed that "we are not only taking the bold initiative to secure lives and property in Anambra State, we are also taking decisive steps to halt the carnage on our roads.
Governor Obiano recalled that "On April 28, 2014, my administration launched Operation Kpochapu with 125 patrol vehicles and a mandate to retrieve Anambra State from the vicious grip of armed robbers, kidnappers, drug dealers and child-traffickers that had made our people sleep with one eye open," adding that, "18 months after, we have decided to raise a new battle cry against criminals from crime-fighting to crime-detection and prevention."
Recalling his visit to a chilling fatal automobile accident scene that claimed many lives at Umuchu, the petrol tanker explosion at Upper Iweka and another serious accident that took the lives of a couple and their first son at Finotel Junction  in Awka, this year, the governor stated that he had addressed the challenges by the introduction of Speed Guns, and  use of the Alcohol Detecting Device.
"My administration is determined to ensure that no Nigerian who finds his or herself within the geographical space of Anambra State shall run the risk of avoidable death from over-speeding vehicles or a drunk-driver! I have no doubt in my mind that with a committed use of the Speed Guns and the Alcohol Detecting devices, we shall save ourselves the agony of avoidable death from auto accidents."
He noted that  the gathering was to  re-focus  strategy in the war against crime and criminality in the State, and  hoped that with the 25 Special Patrol Cars, "we are introducing today, we have entered a new phase in the pursuit of a secure Anambra State. These cars are modeled after the rapid response cars used by the police in the United States of America with all the modern communication compliments and the advantages of speed and efficiency to booth. The mere appearance of these cars gives a strong warning of the resolve of my administration to free our people from the fear of violent criminals for good. Indeed, I have no doubt that with these ultra-modern security vehicles patrolling our cities and communities in the day and night, Ndi Anambra will now fully understand the meaning of going to sleep with both eyes closed! "
Looking back on his innovative efforts to   proffer new solutions to the challenges in pursuit of a new and prosperous State,  governor Obiano nodded with contentment  that "… we have brought violent robberies and high profile kidnappings to the lowest ebb,  I simply give thanks to God for finding me a worthy instrument to make a difference in the lives of his children.
"In the last 19 months, we have re-taken our cities and our communities from violent criminals and kidnappers that for over 40 years had turned our beloved state into the Hobbesian State of nature where life was nasty, brutish and short! We have re-possessed our pride as a great and enterprising people whose genius does not only flourish abroad but can take firm roots at home.
"Ndi Anambra, that is what we see when we watch Coscharis Farms harvest its first rice in Anaku. That is what we witness when UDIPPCO Limited flags off construction of its 80 mega-watts gas powered electricity plant in Umerum. And that is what comes to mind when the UK Trade Delegation feels safe enough to visit Anambra and explore the many attractive offerings of our beloved state!
He assured that he would neither relent on its resolve nor compromise on the security of Anambra State and the wellbeing of the people, adding that his administration would continue to  push for desirable changes and challenge ourselves to come up with the best ideas that would help Anambra to assume the fullness of its destiny as the Light of the Nation.
The governor further assured the people of the State at home and abroad  that the march to heavy celebrations of  the  Yuletide Season is on course, emphasizing that, he is in constant touch with all the security agencies in the state and they have repeatedly assured him that Anambra is ready for Christmas  and "I agree with them! Indeed, not only are we ready to secure our streets and alleyways, we are also ready with the powerful aesthetics that bring Christmas closer home to our hearts."
According to him: "A drive around the major cities and towns at nightfall offers us a large slice of the beauty and magic of Christmas in Anambra State! The most interesting thing about it all is that the amazing Christmas decorations that you see all over the state were done at no expense to the state. The decorations were done as a Corporate Social Responsibility initiative by companies and individuals to support the government and people of Anambra State. It is a direct consequence of my administration's new philosophy of doing more with less."
In his remark, the Inspector-General of Police, Mr  Arase commended governor Obiano for the gesture, which he said would  enhance operational capacity of the police in the state as well as  help police to operate minimally in the drive against criminals.
The IGP also noted that the  State requires a leader with vision and commitment  to use security infrastructure to  check crime and transform the State to an enviable height .
He stated that the huge investment of the State government on security is an indication that the governor placed security as a top priority of his administration and advanced the course of partnership in policing.
Mr. Arase said  that Anambra had set a pace in security management especially in the South East geo-political zone by using scarce resource to vigorously check all sorts of crimes, and urged  other governors to emulate governor Obiano's gestures.
While stating  that the  huge investment will  not be in vain, her pointed out  the  gesture  is a challenge to the Police and assured his men and officers will reciprocate through effective  communal policing against criminals
In attendance were the Assistant Inspector General of Police in charge of Zone 9,  Mr. Usman  Gwary, and Commissioners of Police Taiwo Lakanu from Imo, M.A. Adamu (Enugu), Habila  Johak (Abia) and  Hosea karma (Anambra).
Also present include Dame Virgy Etiana former Deputy Governor, Emeka Sibeudu, speaker of the State House of Assembly, Hon. Mrs Rita Maduagwu,  onetime Minister for Women Affairs, Iyom Josephine Anenih,  immediate past Deputy Governor, Victor Oye, National Chairman of APGA,  his predecessor, Chief Victor Umeh, traditional rulers in Anambra State led by  Obi of Onitsha, Igwe Alfred Achebe and community leaders, market leaders, women associations,  school heads  and students.