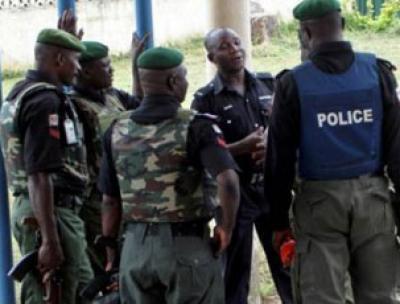 Pandemonium reigned supreme in Aba, Abia state yesterday as soldiers of the 144 Battalion stationed at Ngwa High School, Aba, engaged MOPOL men in a heavy gun battle over alleged beating of a policeman in the city.
Loading ...
247ureports.com gathered that the soldiers who on guard duty at their unit had confronted a policeman who wore a camouflage to identify himself, but when he failed to do so, they made attempt to undress him and started beating  him up  while the policeman sprayed teargas on them.
The police attached to the MOPOL 55 Squadron, raced to the Unit and mobilized his colleagues who came in a Toyota Hilux patrol van looking for the soldiers.
According to a source, the soldiers numbering three were still holed up in their guard post when the MOPOL men parked their van by the road side and one of them went to the post to take a glance without knowing that the soldiers had seen them and laid in wait.
Without wasting time, the soldiers shot him at the chest on close range and he fell to the ground leading to a hot exchange of gunfire for over 20 minutes by both parties as even as another MOPOL man sustain a gunshot injury on his leg.
The situation created panic along the Abayi – Osisioma Ngwa junction area as motorists and pedestrians fled to safety.
When the gunfire died down, the soldiers had seized the police patrol van and arrested several MOPOL men and took them to their barracks as some of their colleagues ran away. The MOPOL men retreated and took their injured colleague to the hospital.
Police Public Relations Officer, (PPRO), DSP Ezekiel Onyeke who confirmed the incident said that the top officers of both forces have waded into the matter.
Attempt to speak with the Commander of the 144 Battalion who came to Aba because of the incident proved abortive as he told journalists that he must get the approval of his superior officers before speaking to the media.
However, a soldier at the Military Unit who spoke on the condition of anonymity told 247ureports.com that the MOPOL personnel caused the problem because he refused to produce his identity card when it was demanded and sprayed teargas on the soldiers and thanked God that no live was lost in the incident.