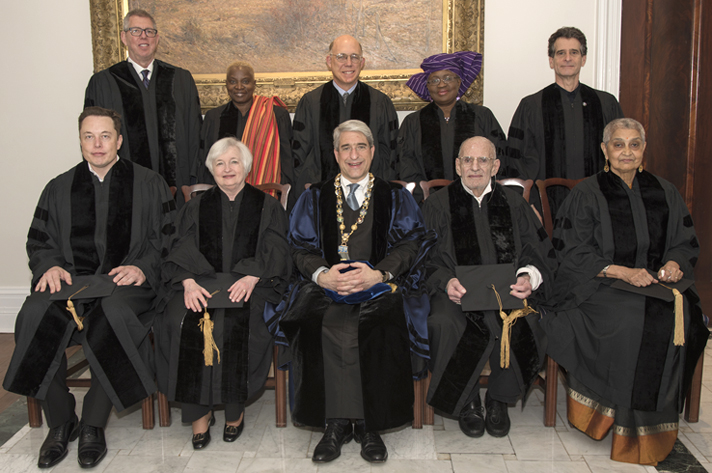 Association of Nigerian Students (NANS) has described as malicious the purported media report that the Yale Doctorate Award conferred on Minister of Finance, Dr. Ngozi Okonjo-Iweala by Yale University has been withdrawn.
NANS equally urged the University authorities to ignore the petition by one Mr. Sunday Iwalaiye requesting them to withdraw the award saying the call was ill motivated by some perceived enemies of the state.
In a statement signed by NANS President, Com Tijani Usman and made available to journalists, the students maintained that the Coordinating Minister for the Economy and Minister for Finance was well deserving of the award adding that the basis that were cited by the institution for the award perfectly describe their perception and understanding of what she has done for this country.
The student's body why regretting that the petitioners has given a blind eye to all the achievement made by the Minister noted that it was clear from their findings that it was done in bad taste.
"From our investigations, we have come to the conclusion that this is a politically sponsored campaign against one of our most outstanding and distinguished Nigerians.
"We the National Association of Nigerian Students (NANS) totally and unequivocally condemn the said act, the initiator of the act and the vested political interests that are behind the act and also call on the authorities of the Yale University to totally disregard the said petition. The position of Sunday Iwalaiye and the mobilized and paid signatures that are being promoted by highly political and compromised media platforms like Sahara Reporters does not reflect the opinions of majority of Nigerians.
"We are aware that Dr. Ngozi Okonjo-Iweala has as the Coordinating Minister for the Nigerian Economy has been able to build strong institutions like the Development Bank of Nigeria, the Nigerian Mortgage Refinancing Company and the Sovereign Wealth that are already powering the growth of the Nigerian economy. We the students are also aware that Dr. Ngozi Okonjo-Iweala implemented an electronic personnel management system which has stopped corruption in the multi billion naira corruptions that hitherto existed in the Nigerian civil service by weeding out over 60,000 ghost workers.
"This singular initiative has saved the country over N200 billion – we know that this is significant because it means that the country has lost trillions within the over five decades of the life of this country. The strength of this initiative far exceeds the total monies recovered from corrupt officials in the entire history of legally fighting corruption in Nigeria", the statement noted.
The student's body further stated that Dr. Ngozi Okonjo-Iweala has helped greatly to reduce the unemployment level in Nigeria through smart programs and policies like YouWin, Graduate Internship Programs etc.