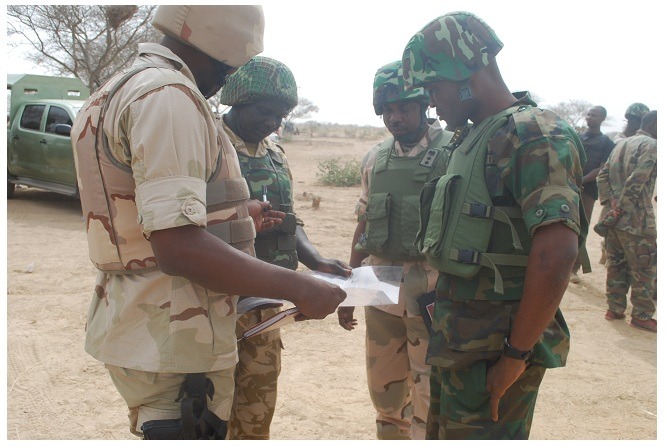 The military have on Saturday  continued it's bombardment of Sambisa forest killing scores of Boko haram terrorists and rescued over 20 Women and children.
In a statement issued and signed by the Director Defence information, Major Gen.Chris Olukolade on Saturday indicated that 10 soldiers sustained injury while one was killed during the operation.
" Despite continuous encounter with large number of land mines which still litter the Sambisa forest, troops have forged ahead with the ongoing offensive operations as scores of the terrorists died in the assault on their bases on Friday.  Several of their weapons and equipment perished after the encounter.
"Over 10 soldiers were however wounded while one died following explosions of land mines along the routes of advance.  Some equipment were also damaged or affected by the detonation of land mines in several points in the forest.
"A total of 20 women and children were rescued at the end of the Friday operation.  They have all been airlifted out of the forest.  The wounded soldiers have also been moved out for necessary treatment.
"Two major ammunition dumps maintained by the terrorists in the forest were also destroyed, along with the 4 additional terrorists camps that were smashed in the operation of Friday.  An armoured tank and over 10 vehicles of various types being used for their operations as well as 70 motorcycles and 15 tricycles of the terrorists also perished during the operation.
"Air and artillery bombardment of identified terrorists camps and locations in various aspect of the forest including the Alafa aspect, is still ongoing as troops continue the offensive action on terrorists in the forest.
"In another development, cordon and search around Bitta have been intensified following an incident where two young boys were wounded after picking up a grenade from a refuse dump.  The weapon is believed to have been abandoned by terrorists that fled the town which is not too far from Sambisa forest.
"Aggressive patrols and surveillance by land and air are also being maintained in the general area.‎" Olukolade. Said