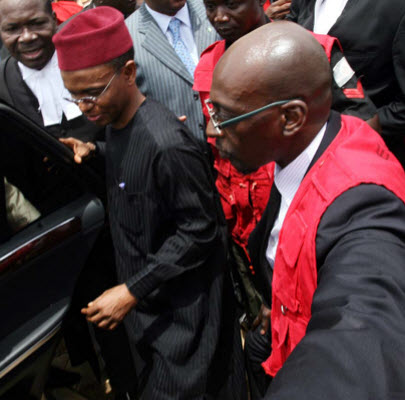 ‎
When one is done discussing a matter one laughs, when one is satiated sleep claims one (When a matter has been taken care of, one turns one's attention in the appropriate direction)
Let me start this essay from a very simplistic point of reasoning. If the call-up capital of a bank is N25Billion, that bank has one branch per state i.e. 36 branches; it has 36 chartered accountants in all the branches, maybe half that number of charted bankers.
Then assumedly 15 staffers per branch, that's a total of 540 staff members, let us agree that management staff for the entire bank is 25, we would have a total of 619
Again let us agree that half that number is married with kids, and the unmarried ones somehow are the bread makers and winners, if 309 of them have three kids each that would be 927 and they had only two siblings and one parent alive, that's another 927, a total of 1854. The rest 307 are unmarried but have responsibilities to just two persons each, which would be 614 in addition to the 1854, a princely total of 2468 persons.
This figure excludes persons that provide ancillary services, printers, security outfits, restaurants in these banks and other such. I am not a statistician but this is just a best-case possible scenario.
What we are faced with in Nigeria, is a situation where subject to proof, three or four men steal some N150 billion, that's about 6 banks and based on my lay calculation, some 15, 000 people's livelihood gone, that figure could in exaggerative estimates be a million, if one calculates the good 150 billion would do three states alone.
Just few years back, the former governor of Ogun State, Otunba Gbenga Daniel was arraigned in the State High Court sitting at Abeokuta over allegation of stealing and fraudulent misapplication of state funds. The ex-governor allegedly siphoned about N7 billion from the Ogun state treasury under sundry nebulous guises during his eight-year rule as chief executive of the state.
According to the charge, the former governor was accused of fraudulently converting $3million from Ogun State domiciliary account with First City Monument Bank to acquire equity stake in a private company, Glanvill Enthoven & Company Nigeria Limited; an offence which is punishable under section 390(4) of the Criminal Code Law CAP 29, Laws of Ogun State, 1978.
He was also alleged to have fraudulently converted $1million from the Ogun State domiciliary account with FCMB to acquire shares in 21st Century Technology Limited.
Daniel also allegedly converted several billions of naira from the statutory allocation to Ogun State Local Government councils to personal use.
The atmosphere around the court was rowdy with supporters of the accused chanting of songs, which prevented the Judge and other parties from hearing the proceedings properly.
In a related matter, the Economic and Financial Crimes Commission (EFCC) also detailed how immediate past governor of Gombe State, Danjuma Goje, allegedly perpetrated N52 billion fraud while in office between 2003 and 2011.
In count one of the charges; the commission disclosed that the former governor spent N5 billion on supplies of food items to the Government House during his eight-year rule.
This excludes the N1.9 billion used to buy, or is it printing dictionaries.
The above is just two cases that I have picked, amongst the many, the Bode Georges, Alams, Cecilia Ibrus, Erastus, Saminu Turakis, Bankoles, Jolly Nyames, Dariyes, Orji Kalus, Tafa Baloguns, Fayoses, Abdulahi Adamus, Farouk Lawan, these excludes all those thieves in the pension fraud, universal basic education fund stealing, or fleecing of phcn.
This small list excludes those that we all know are crooks out there but no one can touch them because they are politically correct and have not stepped on any toes. The above lists also shows you that Nigeria's anatomy of corruption is not tribal, or religion based, whether they be Isa, Ali, John, or Peter…we are united in corruption.
The corruption in the land today permeates the political class, the civil servants are not left out, the academia, media, health sector, and it's become a national malaise.
Need I remind us that apart from discussing 'pomo' (cow skin) at some point, at the height of its joblessness, the National Assembly debated whether to legalize gratification (another term for corruption).
We have invented bribe for budget, we have developed bribe for ministerial position. In this corrupt kingdom, we have all seen in our respective communities how, first you steal, and you are rewarded with a traditional title, you commit fraud with the pen, pay-in nice offerings and you are made a knight of saint chop-chop in one cathedral. You mismanage some millions and build a worship centre and you are hailed as Imam Gbogbotishe.
Those who steal billions get the best lawyers, all the SANs with one locus, one modus, one injunction, and another, they get bail, the case slows down and after much drama, we all forget, in few cases they get a slap on the back…."go and sin no more". While the chicken thief is either burnt to death (mob style), or lucky if he is arrested and spends three years awaiting trial.
From the gateman at the state secretariat to the corporal at the police desk, everyone wants something. Everyone is 'prayerfully' waiting for that promotion that will take one to the next level where one can demonstrate that inherent skill at greasing and lining our pockets.
Admission is sold, employment is sold, political office sold…Does it mean that Nigeria is the most corrupt nation, no! Does it mean that there are no honest Nigerians, no too!
There are many, but they never or hardly get the opportunity or are swallowed up in the mess.
If Buhari and his team can navigate this landmine called corruption, our systems may work again, if he can make scape goats of many cut across board, if we can see the Chinese pill administered to those that loot us dry…then hope abounds, if not, for how long we survive the lootocracy—Only time will tell.