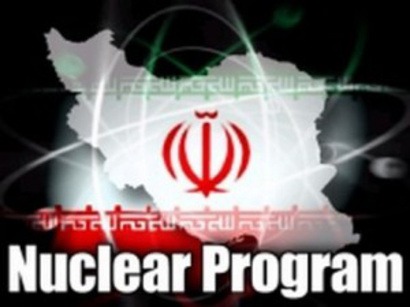 Negotiators working on a nuclear accord with Iran are discussing a secret annex that would contain detailed commitments by both sides, diplomats from three countries involved said, as talks entered their final hours.
The negotiations in Lausanne, Switzerland, which stretched into a diplomatic marathon amid missed deadlines and all-night sessions, appeared set to end with Iran's Foreign Minister Mohammad Javad Zarif and European Union foreign policy chief Federica Mogherini expected at a 7 p.m. press conference.
The goal of the diplomacy is an agreement to end the 12-year standoff over Iran's nuclear program, restricting its atomic work and easing the sanctions that have isolated its economy and slashed exports of oil. But with consensus on key issues elusive, diplomats have scaled back expectations of what they can achieve this week. Another three months are envisaged to reach a detailed final accord.
If the six powers negotiating with Iran reach accord on major principles, a general public statement will be released while specific commitments will be enshrined in a confidential annex, according to officials from a European nation, Russia and a third country, who declined to be identified because of the sensitivity of the talks.
Such a document would help U.S. Secretary of State John Kerry to persuade Congressional skeptics that tangible progress had been made, while Iranian leaders would also have something to show to domestic hardliners, the diplomats said.
Military Option
Many U.S. legislators say they share Israel's view that the emerging agreement won't prevent Iran from making a nuclear weapon, while Iranian critics of the talks say too many concessions to the U.S. are being made.
Thursday's talks are following two tracks, addressing both the substantive issues that still separate the sides and the question of how any agreement would be presented. A European envoy said his country may object to any accord that doesn't include detailed commitments from the Iranians.
If talks fail, "we will continue to have a wide range of options," White House spokesman Josh Earnest said on Wednesday. Those include "tougher sanctions that would compel Iran to come back to the negotiating table, or to be more serious about the discussions," he said, adding that "there is, of course, a military option."
"There's been good progress made but we still don't have an agreement on solutions," Zarif said on Thursday after another night of talks that broke up just before dawn. "For today, the plan is to prepare a statement, this remains to be done and we need to do it."
'Longer Stint'
This is the 19th round of high-level talks since U.S. President Barack Obama and Iranian President Hossan Rouhani opened negotiations 18 months ago. Top American diplomats haven't stayed this long at a site while focusing on a single issue for at least 37 years.
"I can't think of a longer stint of Secretarial negotiation since Camp David," said diplomatic historian Alan Henrikson. A top U.S. diplomat probably hasn't spent this much time negotiating on foreign soil since the 1919 Paris Conference after World War I, said Henrikson, who teaches at the Fletcher School of Law and Diplomacy in Medford, Massachusetts.
Even if diplomats fail to reach an accord this week, the November 2013 interim deal interim deal that imposed new limits and inspections on Iran's nuclear work in exchange for limited sanctions relief, would remain in place until June 30.
The speed and extent of relief from sanctions that have squeezed Iran's economy has been among the key stumbling blocks of the negotiations.
If a final deal is reached by end-June, Iran could add more crude to an oversupplied oil market where prices have fallen more than 50 percent since June. Iran has stored excess crude on tankers for the past 2 1/2 years as restrictions deterred buyers, according to the International Energy Agency. The country now exports about 1 million barrels of crude per day, down from 2.5 million in mid-2012, IEA data show.
–
Source: http://www.bloomberg.com/news/articles/2015-04-02/iran-nuclear-talks-run-into-8th-day-as-u-s-says-deal-possible