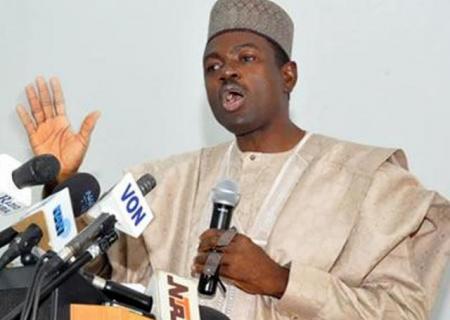 Media Statement
–
The Former Councilors Forum in Nasarawa State has thrown its weight behind the governorship candidate of APGA in the April 11 election, Mr. Labaran Maku, citing his vast experience in governance as the necessary requirement needed to return the state to the path of peace and sustainable development.  This is contained in a communiqué read by the Chairman of the Forum, Hamisu Yusuf after their meeting with Mr. Maku in Akwanga.
He said the Forum, which had membership from all the political parties in the state, had agreed to sink their political differences and support Mr. Maku in his quest to lead Nasarawa State to the era of peace, tranquility and prosperity.
Mr. Yusuf said: "We are here to rub minds and see how we can take Nasarawa State to the Promised Land.  We looked at you and analysed you very critically and we see that you are the ambassador of peace and on that alone, we decided to rub minds with you so that we can restore peace to Nasarawa State and also to pray that what you are seeking for, God in His wisdom would give you. That is the mission why we are here."
In his remarks, Mr. Maku decried the collapse of the local government system under the APC rule in Nasarawa State and promised to grant full autonomy to local governments if elected governor.
He said more often than not, young people who resigned their jobs to vie for councillorship always faced difficulties because their tenures were usually truncated by state governments, thereby living them unemployed without any entitlement, adding that the era to reverse the situation was now.
"Things are worst now than when you were there.  No chairman sees any money now not to talk of councilors.  If you have your salaries paid, you are very lucky.  Everything is done at the Government House.
"Unless local governments truly have their autonomy and operate to meet the expectations of our people, we truly cannot have good democratic culture in Nigeria," he stated.
Mr. Maku said he valued the experiences of the former councilors as grass roots politicians and promised to utilize them if elected.
He maintained that development at the grass roots had been abridged by the Al-Makura administration, which hid under the guise of security to siphon funds made available for development.
"I am informed that your entitlements were never paid. Even those who left after you, nobody paid them. People sit on your entitlements and yet I am aware that every month in this state, they pick N100 million and put aside as security vote before money is ever spent on anything.
"N100 million monthly can sink 200 boreholes and establish 10 cottage industries to employ youths but it is spent on security yet we have no security anywhere," he remarked.
He expressed confidence in defeating the PDP and APC candidates in the governorship election because he remained the best and the most preferred choice among the broad section of the people of Nasarawa State.
ZAKARI EDEGO
Director Publicity
Maku Campaign Organisation