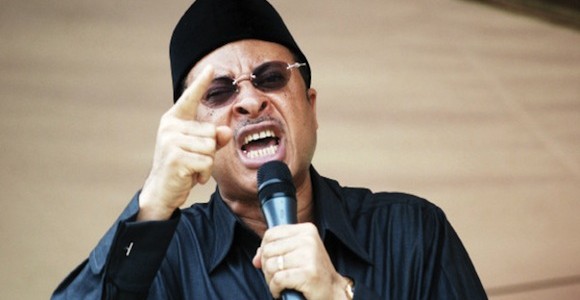 BY ABUCHI IFESINACHI, AWKA
The founder of the The Centre for Values in Leadership (CVL), and co-founder of the Pan African University, Prof. Pat Utomi will on 4th of March 2015 deliver the 30th anniversary lecture of The Anambra Broadcasting Service (ABS) which have 'Media, Politics and National Development 'as its theme.
Addressing journalists in Awka, the MD/CEO of the Anambra Broadcasting Service (ABS), Mr. Uche Nworah, said the anniversary lecture was one of the many activities planned to commemorate the 30th anniversary. According to him, ' We are delighted to be rolling out the drums to celebrate our 30 years of broadcasting excellence.
'This coming in the year that Nigeria will be switching to digital broadcasting makes it all the more exciting as ABS is also on course for full digitization, 'Nworah said.
He noted that Gov. Willie Obiano had in September 2014 awarded a 728 million naira contract for the digitization and modernization of ABS radio and television.
Mr. Nworah said the 30th anniversary quarterly raffle draw with a Kia Rio car  would the grand prize. Other prizes to be won according to him, included TV sets, refrigerators, generating sets, washing machines, smart phones plus other consolation prizes.
He announced that there would be a solidarity thank you tour to all the 21 Local Government Areas in Anambra State and also that Miss Anambra beauty pageant would hold on the30th of October 2015, while the Anambra Beauty and Make-Up would equally hold on the 19th of April 2015 adding that the ABS Excellence awards would take place on 22nd December 2015.
Also speaking the State Commissioner for information, Culture and Tourism, Chief Tony Onyima represented by the permanent secretary, comrade Leo Imoka expressed delight with the level of successes recorded so far and assured them of the State government support even as he said their mandate was to educate, inform and entertain Ndi Anambra both at home and in the diaspora.
It will be recalled that Anambra Broadcasting Service came in being through Edict No. 6 of 1985 which was gazetted on the 14th of March 1985. It operates an Fm station (88.5) and a TV station (Channel 27) in Awka.
145 total views, no views today