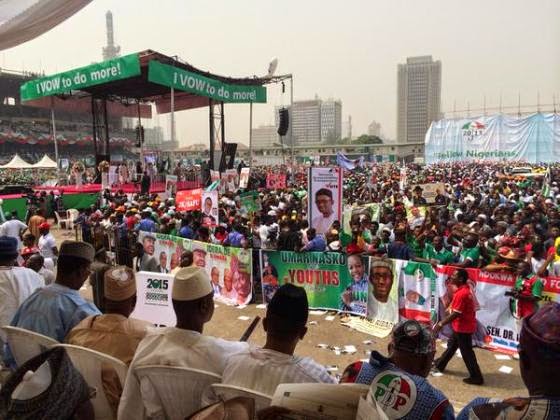 I will appreciate all of you for this warm reception; this crowd that has come to receive me because this is a prayer time, so  we are hurrying—I will just summarize. Let me use this occasion to appreciate the northern youths for donating N2 million for myself and the Vice-President to buy our nomination forms. The donation was made in Kano and we have to use this opportunity to thank all of you for that.
Let us use this opportunity to also express our condolences to you for the death of our former Emir, Ado Bayero, and also to congratulate you for successfully crowning the next Emir of this great city and this Emirate. At this occasion, let us remember some of our great sons and daughters that worked very hard to lead this country. One is the great Murtala Muhammad, Malam Aminu Kano and other great leaders that have worked tirelessly.
Loading ...
When you are in Kano, you remember what people want. Kano is known for education, it is known for agriculture, it is known for commerce and industry; and that is why this present administration will work with you, work with the Governor that is coming, to make sure that we don't just produce food, but we process the food and export and that is why we are working very hard.
You can remember our agricultural programme—that now, we are producing rice and we will soon export rice from Kano. The Vice President and others have mentioned that revolution. Let me tell you one thing, in the year 2011 when I was in the Australia, myself, the Prime Minister of Australia then, the Prime Minister of Canada, the Prime Minister of the United Kingdom and the President of Pakistan were in a programme about Polio; and as at that time, five countries in the world had Polio—Nigeria, Pakistan, Afghanistan, India and Bangladesh. And in that programme, I promised that within this administration period, Nigeria will surely eradicate Polio; and as I am telling you now, in 2014, the World Health Organization declared India free of Polio; they declared Bangladesh free of Polio—we would have been declared last year but because of our challenges.
Let me reassure you that Insha Allah, this year, the World Health Organization will declare Nigeria Polio-free. The last case of Polio was recorded in Kano in June last year, and according to the World Health Organization records, Nigeria is gradually getting to the point they will declare Nigeria Polio-free; and we have said that in those days when they know that Nigeria was at par with other countries; but those countries overtook us and left us behind—this will no longer be acceptable by this present leadership.
Any country that we are at par now can never overtake Nigeria again in all fronts—in economic front, in industrial sector, in agriculture; and that is why we are trying to  create young farmers—what we call the micro-preneurs—young people that will go into commercial farming. We are trying to create young business men. Luckily we are in Kano, and if you talk about business, you remember people like the Aliko Dangotes, you can remember the Dantatas, the Rabius and others.
So, we will   surely work with you to encourage small and micro medium scale enterprises to make sure that young people like you grow up to the Aliko Dangotes—that is what we stand for, that is what we are working for. We have intervened in so many projects through the MDGs, through the TET Fund, through UBEC fund, through the FERMA. Already, most of this projects have been mentioned, I will not bore you, you can go through our literature. We reassure you that working with you, working with the incumbent PDP government; we will surely continue to improve commerce and industry in Kano. We will surely make sure that the young people will have jobs, our women will have jobs; and that the economy of Kano will continue to grow from strength to strength.
132 total views, no views today