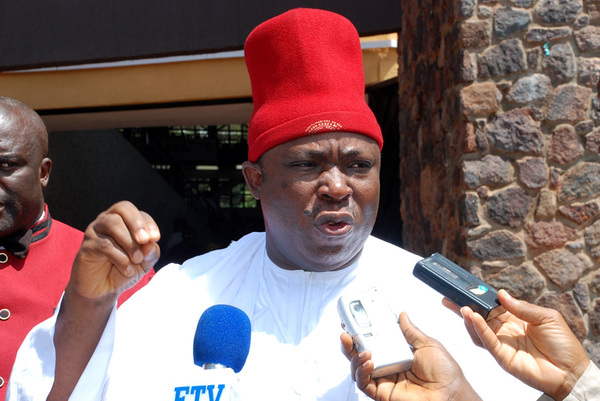 BY ABUCHI IFESINACHI, AWKA
An uneasy calm prevailed last week end in Awka as a crowd of State House of Assembly Aspirant took their turns in the All Progressive Grand Alliance screening exercise held behind closed doors .
The screening exercise which could be described as an exercise shrouded in secrecy was conducted under water-tight security as journalists were barred from having a glimpse of the screening processes and procedures in the course of the exercise following an express order given to security men on guard at the entrance door to the hall where in the screening was conducted.
When journalists made further attempts to inquire about the whole process, they were told that the screening exercise was not for public consumption.However some of the aspirants who came to the venue as early as 8 am and were still unattended to at abut 2 pm shared their experience with newsmen.
One of them Hon.Edward Obiefuna Ibuzo who aspires to represent Onitsha-North 2 State Constituency in the Anambra State House of Assembly if elected in 2015, said the exercise seemed to be shrouded in secrecy as he described the screening exercise as not being properly organised and that many of the aspirants were taken unawares.
Hon.Ibuzo maintained that all the contestants for the Anambra State House of Assembly on the platform of APGA were summoned impromptu for the screening exercise stressing that reservations hinged on the fact that they were not adequately informed by the screening committee to enable them come to the venue with all the relevant documents to avoid being stranded.
The Onitsha-North 2 State Constituency Aspirant further alleged that aspirants were asked to pay 200,000 naira before they were screened and according to him , upon further enquiries he was made to understand that the aforesaid sum of money was for the screening committee .He said they had no such premonition that they would pay such amount before screening , admonishing that adequate information should always be provided to the aspirants beforehand and not imposing anything on them at the screening ground .
Meanwhile Barr.Cyprain Chukwudi Mmadukife who aspires to represent Awka-North State Constituency in the Anambra State House of Assembly in his opinion of the screening exercise said the exercise was hitch-free emphasizing that the process was on first come, first serve basis as they were given numbers to specify their turn.
Barr.Mmadukaife further disclosed if elected in 2015 , he would make a significant difference in political representation in Awka-North State Constituency .