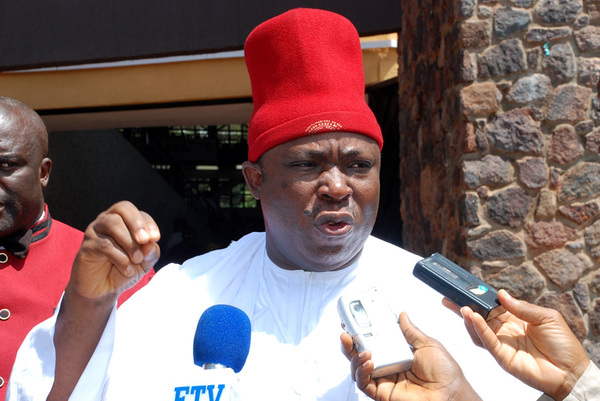 … Warns PDP, APC, Others Against Multiple Candidature
Chief Godson Ezenagu Too
BY ABUCHI IFESINACHI, AWKA
Moves by the National chairman of the All Progressives Grand
Alliance (APGA), Chief Victor Umeh,
to represent Anambra Central in the Senate in 2015, yesterday got a boost
as Umeh formally picked the nomination and  expression of  interest forms
at the State APGA Secretariat in Awka.
This development came same time, the 21 local government councils chairmen
and councillors
have pledged their support for Umeh,with a donation of N3.5 million,which
would be used to purchase a campaign bus.
Reacting to the offer of bank draft of N3.5 million,the chairmen and local
governments councillors brought to cover both nomination form and
expression of interest form,however, Umeh politely turned it down on the
ground that he has already procured his own bank draft,while directing them
to use the money to boost his electioneering campaign.
Umeh who said that the APGA youths had earlier made the same monentary
offer,which he also rejected, then advised the Council Chairmen and their
councillors  to channel the money to other areas to help his campaign,
especially in  purchasing bus for his campaign organisation.
Umeh who was accompanied by retinue of supporters warned the People's
Democratic Party (PDP) to avoid fielding double or triple
candidates in  the next election as he  would resist such a move by PDP
this time.
He urged the State Executive Committee of APGA led by Chief Mike Kwentoh to
sell forms to other aspirants who would like to compete with him for the
Central Senatorial ticket of the party.
He vowed that APGA would move for the disqualification of PDP candidates if they dare field multiple candidates.
Showing his readiness to fight PDP over the alleged issue of fielding
multiple candidates,Umeh  contends, 'I want to use this opportunity to  put
on notice  the national chairman of PDP not to allow the issues of multiple registration to rear its ugly head again 'Umeh said.
Meanwhile, former Anambra State Commissioner for agriculture Chief Godson Ezenagu (Ochendo Igbo) a grassroots oriented politician has also picked his nomination and expression of Interest forms seeking to represent Awka North /South federal constituency at the National Assembly.