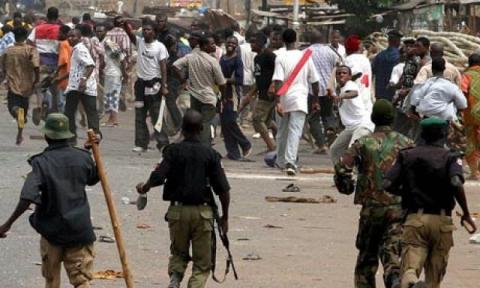 BY ABUCHI IFESINACHI, AWKA
Law enforcement officers have been cautioned on the use of firearms to ensure their own safety and that of the members of the society they are protecting.
The Enugu State Commander of the National Drug Law Enforcement Agency (NDLEA), Mr Anthony Ohanyere, made the call on Friday at a one-day seminar for security agencies in Awka.
In his lecture titled "The Obligation and Limitations of Bearing Firearms," Ohanyere said that unregulated and unrestricted access to firearms could cause chaos in the society.
Ohanyere said that the major challenge of arms was not in the power to bear them, but on how to use them and exercise the powers within the limits of the law.
He described as "unfortunate" the inability of most officers of not knowing when to use the gun in the cause of discharging their duties.
"Any person that must carry arms must be of sound mind, stable temperament and not deformed particularly in vital parts of the body like the arm, finger, among others.
"He must be well behaved person who is not known to be criminal, has criminal tendencies or an ex-convict," he stated.
According to him, an officer who has not been trained is more dangerous than an armed robber.
The security expert charged law enforcers who carry guns to be safety conscious and not subject themselves and the general public to danger.
The seminar was on the Implication and Limitations of Bearing Firearms" organised by the Anambra command of the NDLEA.
Earlier, the Anambra Commander of NDLEA, Mr Sule Momodu said that the training was organised with the support of the state government under its security programme known as "Operation kpochapu".
Momodu said that the training would expose officers drawn from the Police, Prisons, Civil Defense, Immigration, Customs, Army, Navy and vigilance groups to professionalism in the discharge of their duties.