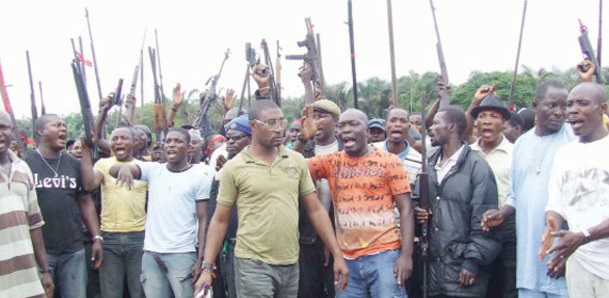 "We make it bold, loud and clear that, Nobody has a right to stop
Governor Henry Seriake Dickson from re-election come 2016 in Bayelsa
state," the three Senatorial roads are enough for any right thinking
Bayelsan for his re-election bid, General Akotebe Darikoro, says.
General Akotebe Darikoro, a militant group without amnesty announced
today in Yenagoa that Henry Seriake Dickson can–and will–contest for
the Governorship in 2016 without hesitation.
At a meeting of the group "Egbesu Mightier Fraternity", General
Akotebe Darikoro said that Dickson was both qualified and deserving of
a second term.
"Dickson will contest in 2016 because of two things; one, he is
qualified to do so under the law and secondly, he has performed well
to the extent that those who voted him in 2012 are willing to do so
again," he stated
General Darikoro also supported his justification by adding that every
Bayelsan governor who is performing or has performed has had right for
two terms in office. "Nobody has a right to stop him from contesting,"
he said. Egbesu Mightier Fraternity also denied that Dickson was
neglecting Bayelsans of under-development, claiming Dickson was not
sentimental.
"Everybody in this state is created equal, no matter the community,
gender or background as long as such person is a Bayelsan.
Appointments the governor made are cuts across every local government
areas and the various developmental projects in the state are self
explanatory, now tell us why such a performing leader will not be
elected to continue the good works he has put in place to be completed
in the next four years?
"Our parents at home are thanking the governor for making them to feel
the impact of good governance. Dickson has made them by putting food
on their table, this was not experienced in the past administrations.
The governor copied the decentralization policy of Chief Melford Okilo
of blessed memory when he was governor in old Rivers state, were local
people especially in southern Ijaw felt the impact of his
administration.
So, why will they stop him from continuing the good works like the
three senatorial roads, dualization of existing roads in the state
capital, health, education, empowerment of old people, labour
friendly, etc. It will be suicidal for those planning to stop Dickson
from contesting in 2016. We advice such characters to have a re-think
of their unachievable political programme in the state", General
Darikoro warned.
The group further said, there is nothing warranted their amnesty
saying that, they are not criminals and that the struggle is for the
total emancipation and libration of the Izon man from the shackle of
poverty from the Nigerian state.
According to them, they will continue to support any good agenda for
the people in the Niger Delta region not mindful of who leads in the
state and the region in general.
" We are deadly, Egbesu Mightier Fraternity is a fighter organization,
those who come across the name needs no explanation, and waiting to
see those willing to do their bidding by stopping Dickson's
re-election bid in 2016 should also prepare to face the wrath of their
evil plan", General Darikoro concluded.