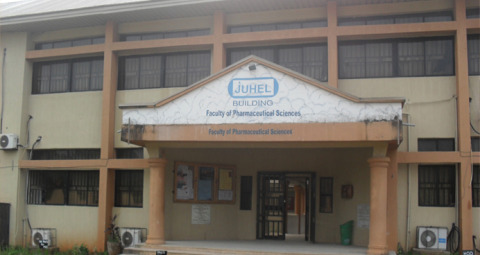 BY ABUCHI IFESINACHI, AWKA
The Acting Dean of the Faculty of Pharmaceutical Sciences, Nnamdi Azikiwe University, Awka, Dr Uzochukwu Ikemefuna, says that some Nigerian researchers are about to harvest anti-Ebola disease drug.
Ikemefuna made the disclosure at the maiden Research Fair and Luncheon of the institution's Faculty of Pharmaceutical Sciences at its campus in Agulu, Anaocha local council area of Anambra
on Friday
.
He explained that the anti-Ebola drug discovery was hinged on two new drug design approaches namely Computer Aided Drug Design (CADD) and Drug Repurposing (DR).
"These two approaches are being leveraged upon to cut down the cost and time required for drug discovery and development.
"We have identified seven approved drugs with concurrent strong binding affinities for all the four tested Ebola viral protein targets," Ikemefuna, who is heading the research group, said.
He however, said that the research was being hindered by N25 million funds to complete phases two and three of the project and appealed to international and local donors to come to its assistance.
Earlier, the Vice Chancellor of the University, Prof. Joseph Ahaneku tasked researchers to translate their research findings into tangible products to benefit citizens of the country.
The vice chancellor, who was represented by the Deputy Vice Chancellor, Academic, Prof. Charles Esimone, said that there was the need for researchers to partner with investors for practical impact.
"Without partnership, no research effort will make practical impact. Industrialists should partner and invest in research findings especially on Ebola Virus Disease and other diseases ravaging Africa," Ahaneku stated.
The state Commissioner for Health, Dr Josephat Akabuike, said that government was determined to provide quality health delivery to the people and had established a Central Drug Facility for the purpose.
The commissioner said that the facility was established to control drug movement and prevent spread of sub-standard drugs in the state.
Akabuike appealed to stakeholders in the drug business to collaborate with the state government in bringing drug counterfeiting to a halt in the state.