Few days after the National Drug Law Enforcement Agency (NDLEA) issued a warning on Nigeria-Brazil route, officials of the anti-narcotic Agency have apprehended a 50-year-old computer merchant with 16.09kg of cocaine on arrival from Brazil. The suspect was arrested at the Murtala Muhammed International Airport (MMIA) Lagos during the inward screening of Etihad passengers. The drug was concealed in fifteen (15) hand bags inside his luggage. The estimated street value of the seized drug is 150 million naira.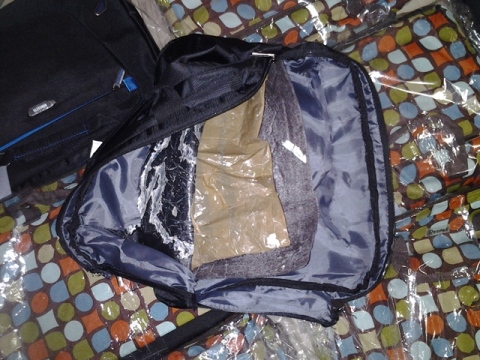 According to NDLEA commander at the Lagos airport, Hamza Umar, the suspect travelled with a Cameroonian passport with the name Nana Njamen Theophile.  "We have arrested a man with thirty parcels of cocaine on his way from Brazil. The suspect came into the country with a Cameroonian passport with the name, Nana Njamen Theophile. Investigation later revealed that he hails from Anambra State with the name Okafor Gods-will. The case is currently under investigation".
The suspect in his statement said that he was given 6,000 dollars to bring the drug into Nigeria. "I attended Boys Secondary School Nnewi, Anambra State. I sell computer accessories at Onitsha. I am married with two children. I needed money to pay my bills and there was no help. I agreed to bring the drug into Nigeria for the sum of 6,000 dollars. I did not even see the drug until it was detected by the NDLEA officers at the Lagos airport. They gave me the small bags in Brazil that it contained drugs but it was packed in such a way that you have to cut it open to see the cocaine" the 50-year-old explained.
Chairman/Chief Executive of the NDLEA, Ahmadu Giade who expressed satisfaction with the arrest, attributed it to improved security checks. In his words, "this arrest is an indication that Nigeria-Brazil route is not safe for drug traffickers. I am happy with the arrest considering the worth of the drugs. This is a double victory for the Agency because we have the drug and the suspect. The suspect will soon be prosecuted" Giade stated.