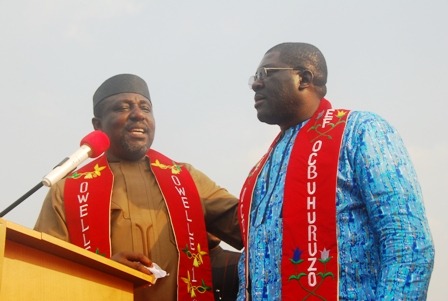 A Chieftain of the All Progressives Congress, APC in Imo State, Prince Christian Nwokeji has joined the People's Democratic Party (PDP).
In a press statement made available to 247ureports.com, the New York-based educator from Oru East Local Government Area of the State described the APC as a party headed by a political ventriloquist.
The frontline politician further claimed that the Imo state Governor has embarked in meaningless projects and a quack Community Government Council (CGC), marred by intimidation and violence. According to him, before the Okorocha-led administration introduced the voodoo "free" education programme the quality of education in Imo State was of relatively high standard, stressing that Okorocha's free education programme has led to fast decline in quality, inadequate supply of school materials and equipment, recruitment of unqualified teachers and lack of focus on academics which is the core strength of the Igbos. He chided the governor for his seeming lack of value for excellence and good education.
Prince Nwokeji averred out that the People's Democratic Party (PDP) is now better positioned, strong and ready to win the Governor race in 2015 with the return of our former leader Governor Achike Udenwa and the other political big wigs. He indicated that a new day lies ahead for Imo State and the citizens, stating that in just 10 months the Rochas Okorocha's administration will come to an end, and we will finally turn the page and welcome a new Governor to office.
 In his words, "As a leader in diaspora who understands the situation at home, I believe we need a new Governor who would provide better schools and jobs for Imo youths and end Governor Okorochas's era of abject poverty, financial recklessness, and administrative madness in the state.
"Moreover, political elites in the United States are cautiously monitoring the political upheaval and are fully aware that the Charter of Equity favors a candidate from Owerri zone to be Governor in 2015. However, by being able to make a choice from among a number of qualified and acceptable candidates, the locally knowledgeable and responsible citizens can select the one who most nearly fits the needs of Imo now.
"Based on our research, we have come to note that only a core professional with proven track record can redeem the fast declining economy of our dear state. Imo needs a man with the traits and capabilities of a distinctive manager; a man who is aware that key development process in the state is good financial management with emphasis on transparency, motivation and innovation for change; a man who is educated enough to understand the importance of cultural, economic and political systems which regulate and promote development; an intelligent leader with distinguished integrity, expressiveness, warmth and charisma.
"Henceforth, we need an untainted politician who will not only listen to the voices of citizens, elders and youths, but also actively solicit their input to move Imo state forward. For more than 3 years we have been treated like strangers in our state. We need a young and vibrant person with good qualities of leadership that will offer the citizens of Imo the chance to play an active role in making the changes needed to set our citizens and state on the right track."
Nwokeji advised PDP leaders and stakeholders to choose wisely, saying anybody who wants Imo to move forward should take a close look at the contestants and critically appraise them without bias. In his view, our efforts as leaders in the state should be focused at regaining the Douglas House In 2015.