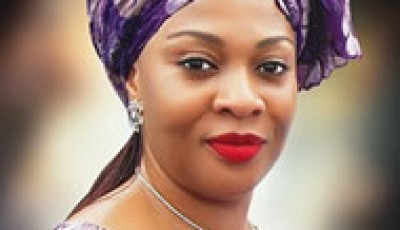 A Peoples Democratic Party chieftain, Senator Gbemisola Ruqayat Saraki (GRS) on Monday throws her weight behind the international community intervention to rescue the abducted Chibok girls and put an end to Boko Haram insurgency in the country. 
Senator Gbemi Saraki's comment is coming on the heels of last Saturday meeting in France involving France the host country, the United States, United Kingdom and neighbouring West African countries.
Senator Saraki in a statement in Abuja said Nigeria needs all the support she can get from the world now for a lasting peace to reign in the country.
The statement signed by Senator Gbemi Saraki Special Assistant on Media Mr. Sola Shittu stated further that beyond the international community intervention, the Federal government should also ensure that our security agencies are well equipped and trained to provide safety of lives and property for Nigerians. She dismissed criticism of the government move for international assistance saying there is nothing absolutely wrong with it.
"If you will recollect, Nigeria has on many occassions rendered assistance to many African countries and the world in general. We have been contributing the largest troops from Africa to the United Nations contingents for so many years now. We have helped countries like Liberia, Sierra Leone, Congo, South Africa, Gambia and so many others with human and material resources. We have sacrificed the blood of our soldiers to restore peace in many African countries sometimes single handedly without United Nations support and just recently we did the same for Mali, a brother African country against this same Boko Haram group. So we also deserve the world support in our moment of trials.
"Besides, remember that the world is a global village now and terrorism is an international phenomenon. Every countries of the world has its own share of it, so it is even in the interest of those countries to be of help to Nigeria now. I think any country especially our neighbours, that does otherwise is not doing her citizens any good", she said.
She advised politicians against politicising the insecurity in the country now and warned that such move would affect the unity of the country which is the most important ingredient required to fight the the insurgents now.
"This is not a time to trade blames and anyone doing that does not love this country. There are times that we have to put politics aside and fight together as one nation like the Americans did during the 9/11 incident", she said.