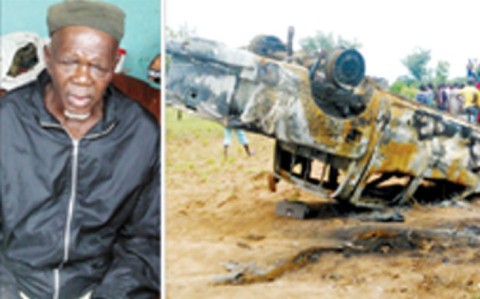 The commission of inquiry set up to look into the Alakyo killings of
May 7, 2013,  and other related matters has indicted Senator Solomon
Ewuga on the grounds of being one of the financiers of the Ombatse and
for giving false evidence on oat before the commission.
His actions are punishable under Section 158(1) of the Penal Code Law,
as applicable in Nasarawa State.
Excerpts from the report of the commission made available to newsmen
in  Lafia yesterday states that 74 security personnel, comprising 64
policemen and 10 personnel of the Department of the State Services
were killed  by the Ombatse militia group at Alakyo Village on May 7,
2013.
The report further stated that it was not any spiritual force that
caused the death of the security officials as evidence revealed that
the Ombatse militias used firearms, cudgels,  cutlasses and other
lethal weapons in killing and injuring the affected personnel who were
on lawful duty at Alakyo.
The commission's report further said that a combination of factors
were responsible for the spread of communal violence in the state,
some of which include ethnic rivalry to achieve political dominance;
youth restiveness due to non-profitable engagement such as the high
unemployment rate;  manipulation of the youth by the political elite
to achieve personal political objectives, and mutual ethnic suspicion
and antagonism.
The document stated that the Ombatse group had been deeply involved in
all communal clashes in the state and that there is a definite
political dimension to Ombatse militancy.
It also noted the Fulani herdsmen had also been involved in the crises
that have engulfed the state.
There is hardly any political dimension to the militant activities of
the pastoralists".
The federal government was not however spared by the report when it
reported that "the Federal Government unemphatic concern over the
Alakyo killings even when its agents were the victims has not helped
in the containment of violence in the State. The Federal Government's
attitude has given room for tendencious  interpretations, largely of a
political nature".
The Commission notes also condemned the role played by the "Eggon
Traditional Council and its elders in the tacit support of the
activities of the outlawed Ombatse group" noting that "the Commission
would have recommended the outright sanction of the council, but
however "strongly recommends the formal admonition and reprimand of
the Council and its elders in the interim, for their moral failure to
call the Ombatse and such affiliated Eggon groups to order when they
exceeded the bounds of reason".