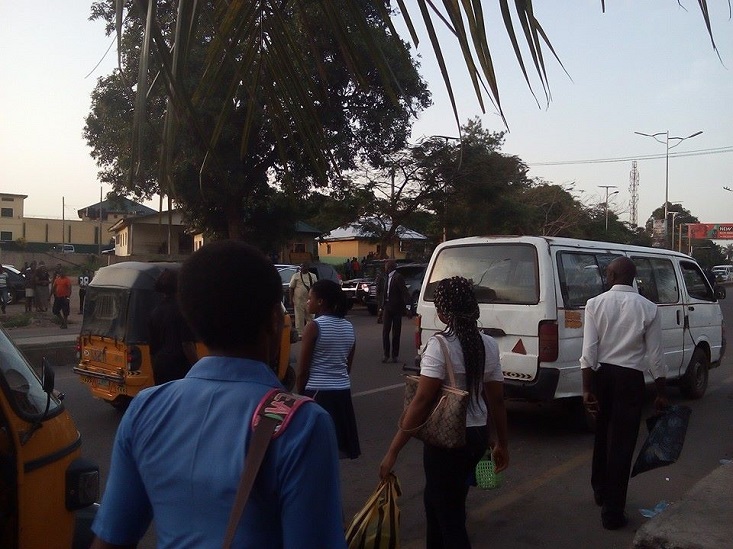 A mild drama played out in Owerri, the Imo state capital Tuesday evening when the state governor, Owelle Rochas Okorocha was refused by a bus driver from impounding buses on Okigwe Road in front of Nigeria Prisons.
Loading ...
The governor had broken protocol and suddenly stopped his convoy in order to arrest motorists operating illegal parks on the Okigwe road, but was met with stiff opposition by the bus driver, who later claimed to be a police officer.
The governor who drove himself in his beautifully posh car, together with his deputy chief of staff, Kingsley Uju, the APC chairman in the state, Dr Hilary Eke and his entourage at about 5:45 pm, Tuesday, took the bus loaders and drivers by surprise and offloaded the passengers.
But, a mild drama played out when the driver refused to handover his bus key to the Governor, but rather identified himself as a police man.
This prompted the APC State chairman, Dr. Eke and the governor's deputy chief of staff, Engr. Kingsley Uju pounced on the driver but the governor ordered them to stay action.
The angry Okorocha, who threatened to discipline him, decided to pardon him when the man broke into tears and went on his kneels.
However, the Governor's Aide – de-Camp( ADC) Eberendu CC, insisted on disciplining the errant driver.
The plea from the people around did not make the ADC to change his mind, as the driver was arrested and his bus impounded.
Okorocha immediately instructed that the vehicles be driven to the government house, where they would be by ENTRACO officials to evacuate refuse.
The governor said "I am not after you Ndi – Ocho Passenger, any bus I get illegally operating will be taken to the government house".