By Uzo Ugwunze and Izunna Okafor
As the general elections have come and gone, most electoral litigations concluded with its attendant frayed nerves, the quintessential Rector of Federal Polytechnic Oko, Engr. Mrs Francisca Nwafulugo has called on the Federal Government of Nigeria to use sports to promote friendliness amongst multi ethnic, Nigerians who have different religious and political affiliations.
Speaking during the kick off of the Rector's Unity Cup competitions at the Polytechnic football pitch, Oko in Orumba North Local Government Area, Anambra State, Engr. Mrs. Nwafulugo, the first female Rector since the inception of the citadel of learning described sports as a unifier.
"The Federal Government has done a lot for Nigerians and are still on it but you know people want more. I want to say they should keep it up. We want good things in the country. We want a country that is friendly where everybody will have a place and a say.
"The Federal Government is not doing badly but we need more. Sports is an outdoor activity that makes the spirit, soul and mind to be together. I think sports is the best thing for us now. Sports brings people together in unity. We need to be together to achieve more things," she said.
Moreover, Engr Mrs. Nwafulugo who was about winding up her 5-year tenure as the polytechnic Rector said that she had neither undermined the power of sports nor neglected it in her administration despite limited resources.
She appreciated the Federal polytechnic Oko community for organizing the series of sporting events in her honor, thanking God for the cooperation and support given to her by the polytechnic's management, staff and students which resulted to her numerous achievements in the polytechnic in less than five years.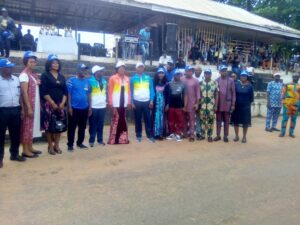 "I want to thank God for this sporting event that marks the first activity towards my end of tenure which is just one out of several other events. It is an honor today as I kick off this Rector's Unity Cup and I sincerely appreciate it. Thank you for making me proud.
"From now till 9th November ,2023 there are exciting trophies to be won. It will be contested by 7 schools in this main campus, including the Atani campus. In this competition everyone is a winner, but few will certainly go home with the trophies.
"Sports had never been neglected since the inception of my tenure. They approached me for Nigeria Polytechnic Games, NIPOGA and also the Staff Games. Both were all funded by this polytechnic, and they came back with many trophies to the credit of the organizers. We never missed any of those sports competition despite the fact we are facing financial challenges," said Nwafulugo.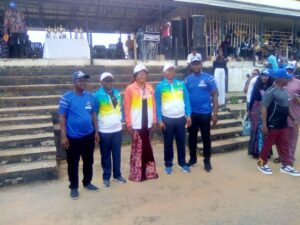 "So far, it has been a good journey full of goodies and challenges. We have seen the good, the bad and the ugly but thank God for today. Five years is just like yesterday but we have recorded many achievements thanks to the hard working team that made it happen," she said.
The Rector's Unity Cup will feature Football (male and female), Volleyball (male and female), Athletics (male and female) – 100m, 200m, 400m, 1500m, 4 by 100m, Badminton (male and female), Table Tennis (male and female).
Other dignitaries that graced the kick off include the Deputy Rector, Mr Uche Onyegbu; Acting Registrar, Mr Obini Onuchukwu; Chief Librarian, Dr. Nwabu Ezemba; Director, Academic Planning, Dr. Ferguson Ezeokafor; Director of Sports, Mr. Kehinde Ogubunmi; the PRO, Mr Chijioke Ibeziako; among other Directors of Schools and Heads of Departments.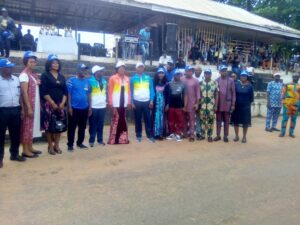 However, the opening football match between School of Financial Studies and School of Applied Sciences ended 0 – 2 in favor of the latter.