By Uzo Ugwunze
Students have been encouraged to embrace excellence, integrity, healthy rivalry, hardwork, good character and knowledge in their quest for education.
The charge was given to students during the 2022/2023 Annual Graduation/ Valedictory Service and Prize Giving Day ceremony of Anglican Girls Grammar School Onitsha, [AGGS] Anambra State.
In her welcome address, AGGS Onitsha Principal, Lady Maureen Anyaenetu tasked the outgoing students to use the training and knowledge they acquired while in school to become agents of positive change and be the shinning light others should follow.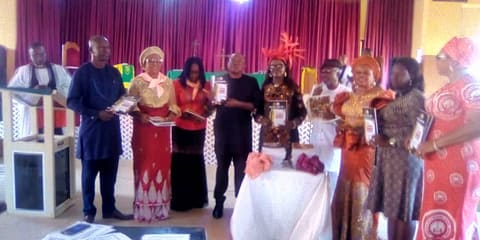 "Today as we honor our exceptional students with prizes and accolades, we also celebrate the spirit of of healthy competition and the pursuit of excellence. Remember that the true essence of Education lies not merely in the pursuit of grades but in the development of character and a thirst for knowledge".
"Success is not defined solely by the laurels you receive but the impact you make in the lives of others. As you go out into the world continue to uphold the values of compassion, integrity and empathy. Be the agent of positive change and let your light shine bright, illuminating the path for others to follow.
"Your hard work, determination and countless hours of study have brought you to this moment of glory. As you stand in the threshold of a new chapter in your life, remember this is just the beginning of an exciting journey filled with endless possibilities, cherish the memories you have made within these walls, and let the lessons you learnt guide you towards a brighter future," said Lady Anyaenetu.
Moreso, the principal enumerated various achievements of the school in academics, sports, property and infrastructure thanking the Proprietor, His Lordship, Rt Rev. Dr. Owen Nwokolo and his wife Dr. Mrs Elsie Nwokolo for their support.
She appreciated the AGGS Onitsha Management board led by Sir Okey Olikeze for procuring 3 Deep Freezers for the school, Renovation of Corp members and Junior officers Quaters, painting of the school hall and the ongoing perimeter fencing of the entire school compound.
Lady Anyaenetu further commended the renovation of the Physics and chemistry by the PTA , Renovation and furnishing of school Library by the Old Girls Association USA, and the re-painting of the school administrative block by the President Worldwide, Old Girls' Association, Lolo Chiebo Okoye.
However, the principal solicited for assistance to meet other needs of the school which included Building of more staff quarters, toilet facilities, renovation of the block housing the Igbo, music and sick bay, fixing of the home economics laboratory and SSS 1 class windows and doors .
She also requested for the landscaping and construction of more drainages to control the erosion threatening some buildings in the school premises adding that the School Chapel of Glory needs completion.
In her remarks, the Anambra State Universal Basic Education Board (ASUBEB) Chairman, Dr Vera Nwadiobi who said that it was one of her students that sponsored her pilgrimage to Jerusalem advised the outgoing students to be the best in whatever occupation they chose in life.
"Prepare yourself to go and overcome your world. Enter academics like us and reach the peak or engage properly on skill acquisition and show yourself to the world", said Dr. Nwadiobi.
Earlier in his homily, the Education Secretary, Ven. Uzochukwu Okeke urged both students and teachers to be passionate with their chosen profession if they want to be handsomely rewarded.'Take your profession as a call. Do not joke with it. If you do well, there will be payback someday".
In her keynote address, Pharm. Mrs Nonye Okwuosa of Nnamdi Azikiwe University Teaching Hospital Nnewi who is also an Old Girl of AGGS Onitsha '88 set tasked the students to be focused in life and embrace hardwork as a lifestyle if they want to amount to anything meaningful.
"The formation of our characters began here in secondary school and we were groomed to be dedicated, focused, committed and disciplined because youthful age is full of distractions.
"For instance, to be a pharmacist you must know the particular subjects that you must credit, they include English, Mathematics, Physics, Chemistry and Biology. You also need to score between 250 and 290 in UME Jamb, and this demands focus, hardwork and determination," Mrs Okwuosa said.
According to the President AGGS Old Girls Onitsha branch, Hon Amb Chinwemma Obi Iwuchukwu, "this school made us what we are today. I advise the students to respect themselves, make good use of their time, maintain good parents relationship and focus in whatever they want to become and they will excell more than us in life".
Meanwhile, several students who were outstanding in various subjects and conducts won various gifts and cash prizes facilitated by the school management, Board Management and Old Girls Association.
A former principal, Dr Lady Uju Ikegwuani who represented the President Worldwide Old Girls Association, Lolo Chiebo Okoye while presenting the cash awards to the overall best students in various classes encouraged other students to strive for excellence so as to win next time saying that the Old Girls always gifts cash prizes to the very best annually.
Moreover, the Immediate Past Principal, Dame Nneka Nwankwo who was celebrated for her laudable achievements and presented with send-off gifts by the school encouraged students who did not win prizes to strive to win next time saying that awards or certificates can give one edge over another person in the scheme of things.
Dame Nwankwo eulogized the likes of Sir Nathan Ofoma, Hon Lynda Ikpeazu, PTA Chairman Ven Ignatius Obalum, Board Chairman Sir Okey Olikeze including the Old Girls Associations of different sets for coming to the aid of the school during her 4 years tenure as the principal.
Also, the Board Chairman, Sir Okey Olikeze called on parents and Gaudians to register their children and wards in AGGS Onitsha due to their intolerance for exam malpractice,cultism, social vices saying that the school is very passionate about the learning, character formation and welfare of the students."Today, special gifts were presented to the Food prefect for her promptness in reporting towards ensuring quality feeding of the students and the most punctual student".
However, one of the students who received prizes, Iruoma Uzochukwu – Best JSS 3 Student in Business Studies said that she feels elated adding that the prize will spur her to take her studies more seriously and aspire for greater heights in life.
Highlight of the valedictory service was the unveiling/launching of the school's Puritans Year Book by the dignitaries that graced the occasion.
Other Dignitaries both present or represented include Anambra State Commissioner for Education, Prof. Ngozi Chuma Udeh, Chairman PPSSC Awka, Prof Nkechi Ikediugwu, The Secretary PPSSC Awka, Mrs Benedine Anagor, The Secretary ASUBEB, Mrs Ebele Mgbemena, Zonal Director Education PPSSC Onitsha zone, Mrs Josephine Igboanusi, Zonal Director Education, ASUBEB Onitsha zone, Mrs Augustin Umeh, School Chaplain, Rev. Canon Betram Igbokwe, PTA Vice Chairman, Ifeanyi Nwosu.