….Cautions Against Return Of Beneficiaries of Insurgence in the North -East.
By Abdulateef Bamgbose
A group of Northern Coalition has described those pushing for the appointment of General Ibrahim Buratai, the immediate past Chief of Army Staff as National Security adviser ( NSA), as a move to return the Beneficiaries of the insurgence in the North -East to power.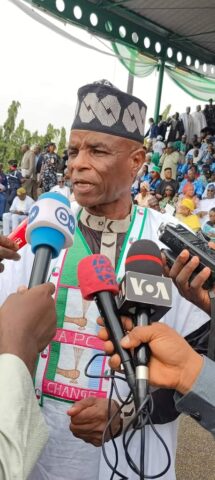 Reacting to the speculations, at a press Conference in Abuja, on Thursday, Dr. Haruna Garus Gololo said that " it is a common knowledge that the appointment of General Ibrahim Buratai, as the Chief of Army Staff delayed the military operations in the North -East, which led to the death of thousands of Nigerian"
Nigerians almost took to the Street protesting the Continuous staying of the Service Chiefs before former president Buhari reluctantly removed them, a system that reward failure, Buratai and the device Chiefs who were supposed to be investigated for the looting and misappropriation of billions of Naira allegedly expended without any tangible results, were given ambassadorial appointment "
" The appointment of Moguno as NSA has neither address the raging question of how much was invested in the North -East "
" If the Tinubu administration must succeed, it should look beyond the appointment of any retired General.
We have retired intelligent police officers like Nuhu Ribadu, who will compromise security for pecuniary gains like the retired generals"
Gololo, an All Progressive Congress ( APC) Chieftain, from Bauchi State, coordinator of the Tinubu Shetima presidential campaign campaign in the North -East, in the just concluded election told Newsmen that Ribadu, the former Economic and Financial Commission, EFCC has what it takes and should be considered for the office of the NSA.
Similarly, the group urged president Tinubu to further extend the dragnets to other sector like the NNPC, Aviation and the FIRS to investigate years of stealing while the Buhari administration lasted.