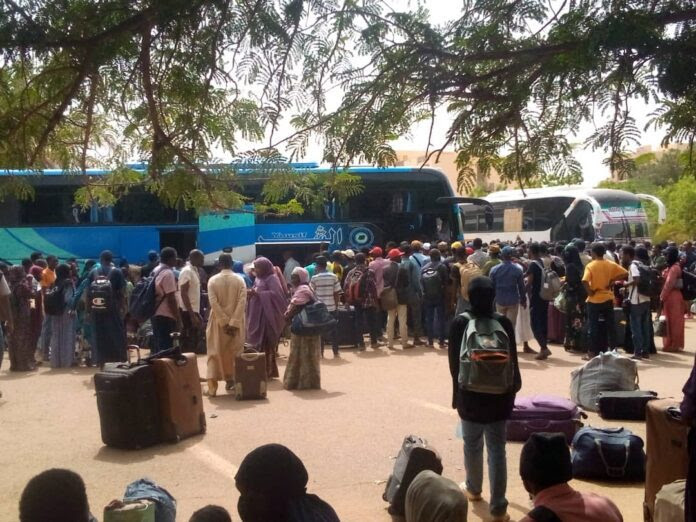 BY SULE TAHIR.
FEDERAL Government's ten 100-seater buses carrying stranded Nigerian students in Sudan has left Khartoum for Cairo.
A student leader, who spoke on condition of anonymity said, five of the buses were at the meeting point in Khartoum last night and an additional 15 100-seater buses arrived the meeting point today, making it a total of 20 buses.
According to him, a total of 10 buses conveying stranded Nigerian students are headed to Cairo and an additional 10 more buses are lined up at the venue to carry some more students.
"Five buses were here overnight and an additional ten more buses arrived this morning at about 10:30am local time. And immediately after the arrival of those buses, the official started the screening and students boarded.
"After two hours, at about 12:30pm local time the first set of five buses filled with our Nigerian students left the campus for Cairo and after two more hours, at about 2:40pm local time another set of five buses left too, making it a total of 10 buses headed for Cairo.
"As I speak to you now, the students on ground are boarding the remaining five buses and just few minutes ago, five more buses just drove into the premises. In total, we have 10 100-seater buses conveying our students to Cairo and 10 more on ground now", he explained.
Sources closes to the scene reported that, Federal Government's buses arrived the meeting point of International University Of Africa, Khartoum for the evacuation of the stranded Nigerian students in Sudan through Cairo.
This medium reported that, a set of five 200-seater buses drove into the venue at exactly 7:30pm local time (5:30pm – Nigerian time) with two Hilux trucks of security personnel and a small bus of embassy officials.
A student leader who spoke confirmed the development,"the officials have started clearance and verification of students at the venue and some students are ready to board.
Also Speaking an official of NEMA said, "the movement of the buses from Khartoum in Sudan is to Aswan in Egypt. From Aswan, they will be airlifted to Abuja. The road trip is estimated to be about 40hours".