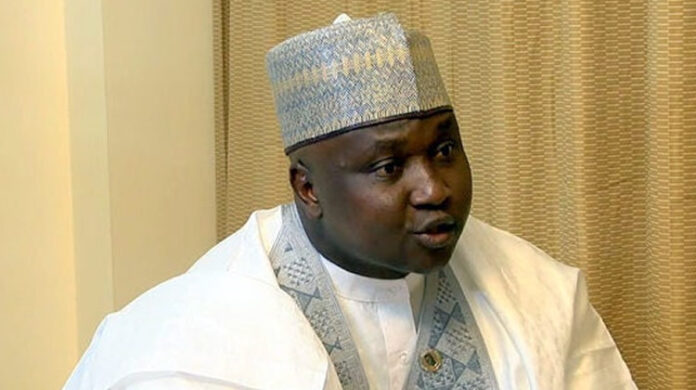 There is a popular saying that "it is not over until it is all over". The recent re.run election victory of House Leader, Hon. Alhassan Ado Doguwa has further confirmed this belief. In spite of all the Shenanigans, scheming, plots and counter plots to stop or deny  him of his hard fought mandate, Doguwa proved to be as smart as the fox and as strong as the lion.
There is also an ancient Hausa proverb that says *ana mazuru ana shaho, zakarar da Allah ya nufa da kyara sai yayi* meaning, there is no stopping an idea whose time has come. Hon. Doguwa has proved to the world that he is a native of Doguwa/ Tudun Wada Federal Constituency in Kano. He has also asserted that he is a grassroots " boy and politician " who always stand by the electorate. The Doguwa/ Tudun Wada electorate have also showed others how to stand by their own.
I know Alhassan since our university days in Kano from 1987 to 1990. For three years we were comrades, reading and studying the same course. The only difference was that he majored in broadcast media while I chose print journalism. We were so close for the simple reason that we were course mates, classmates and school mates. For the three years we spent on campus in Kano, he was all the time involved in campus  politics therefore,  finding himself in the National Assembly was not by accident but rather what can be termed as fate. He was a very active campus politician who earned the nick name *Ruduuuuu* ( a noise maker, an extrovert and and a smart fellow who was hungry for power.
Comrade, as he was known on campus enjoyed arguing on national and international issues and the qualities of a future leader were visible in him. In fact, he did not escape the parlance on campus known as 101, 011and 001. We all went through that process. You eat breakfast, skip lunch and struggle for dinner or you skip breakfast, struggle for lunch and dinner. It wasn't easy but we made it through fate and faith.
Immediately after the service year Doguwa ventured into active politics and in took part in the IBB botched political drama in 1992 as a member of the House of Representatives. In 1999 as dogged as always, he went for another trial and has been in the House since then excerpt  for once when he had a hiccup.
In 2019 he faced similar challenges of a re.run and won and so it was not the first time Doguwa has to go for a supplementary election. But the 2023 edition was very vicious as his detractors both within the APC and outside wanted to stop him by all means from achieving one of his political ambitions at the National Assembly, that is the Speakership.
Hon. Alhassan Ado Doguwa's desire and quest to be the House Speaker  came to the fore in 2015 when the APC took over power from the PDP and he has since then been nursing that ambition. In fact, he was among the front runners before the party came with a sharing formula and he settled for the House Leadership seat which he is presently occupying. As one of the few veteran members and a national public figure whose political contribution towards Nigeria's progress cannot be quantified or measured on any scale, Nigerians, particularly, members of the House should not judge him by the allegations leveled, labeled and framed on  him  but the quality of his political contributions towards nation building.
He has held several House Committee key positions and excelled the most visible of them been the Millennium Development Goals ( MDGs ) As House Leader for two terms, there is no better time for Hon. Alhassan Ado Doguwa to lead the House than now. Again, as a veteran House member, there is no better person to aspire for that position than him. Moreover, there is no better position for him to aspire for than that of Mr. Speaker.
For now, all the allegations levelled against him are mere allegations. He can only be proved guilty by a competent court of law. The Nigerian law does not pronounce an accused person  guilty until proven guilty by the courts. Therefore, until a competent court finds him guilty as charged, he is presumed innocent. The people of Doguwa/ Tudun Wada constituency wouldn't have given him their mandate if he is as bad as he is painted by his political opponents. The electorate in his constituency would have rejected him if what his persecutors wanted the world to believe is true.
We will continue to beat the drum for Doguwa to be the next House Speaker and we will shout and canvas for support until that long standing dream becomes real. On Doguwa we give our mandate and on  Doguwa we stand.
To his political detractors, *kunyi failing* because nobody thought he could scale that re.run and he did and like the snail he would crawl and dance like the fly and sting like the bee and reach where you are plotting against him not to reach.
So far, verdict 2023 has vindicated him through the results of the April 15 supplementary election. We hope justice and fairness would prevail in this trying period he is going through and as a believer in destiny, Doguwa is confident that the judiciary would  be impartial.
On a final note, it is also hoped that Hon. Alhassan Ado Doguwa would have a moment to reflect on the past by  tightening every loose end because as a public figure one should learn to control ones temper and also relate well with friends old and new which is a good political ingredient. The future is bright but there are still some dark clouds that need polishing.
In politics, survival is the name of the game and it does not  matter how you survive but the most important thing is to survive. You have the traits and qualities of a survivor. You have already exhibited them so ride on, Comrade, ride on.
Congratulations for surviving the APC/ NNPP combined coup attempt.
*Àminu Mohammed is a media consultant*