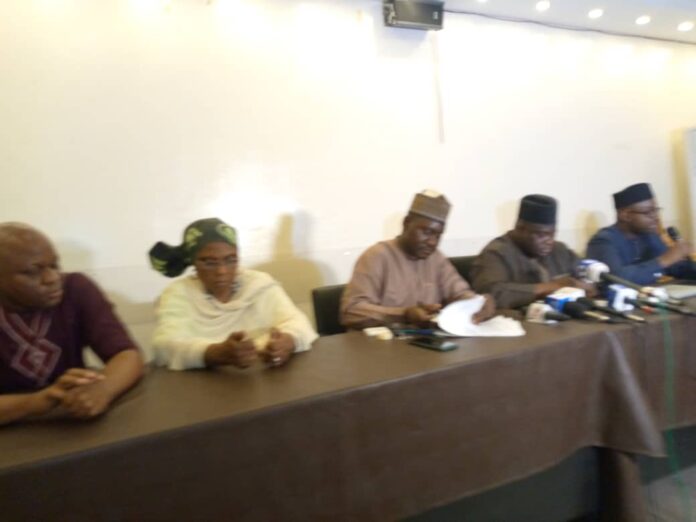 The Kano State Civil Society Elections Situation Room, the Transition Monitoring Group (TMG), and Civil Society Legislative Advocacy Centre (CISLAC), on Saturday in Kano, lambasted Election Observers' Groups, who had called on the Independent National Electoral Commission (INEC) to cancel the March 18 Governorship election in Kano state and other parts of the country, insisting that they have no right to do so.
Auwal Ibrahim Musa (Rafsanjani), Chairman, TMG and Ambassador Ibrahim A. Waiya, Convener, Kano Civil Society Elections Situation Room, spoke on behalf of the three organizations during a Press Conference held at Tahir Guest Palace, Kano, on Saturday.
The spokesmen of the three organisations insisted that: "For obvious selfish and politically motivated reasons, some faceless groups in conjunction with some willing elements in the media have cooked up fake stories about civil society organisations calling for cancelation of the governorship election in Kano state and other parts of the country.
"The spread of this fictitious and malicious news, in a time when the political space in Nigeria is already heated up is not only worrisome but also has the potential to further overheat the polity. As champions of democracy, we will not allow sneer-campaigners and people with politically motivated reasons drag credible civil society organisations in Kano State and indeed, in Nigeria at large into political wars with political parties."
They further stated that: "For the avoidance of doubt, it must be categorically stated, that as credible organisations duly accredited by the Independent National Electoral Commission (INEC) to observe the 2023 general elections, TMG, CISLAC and Kano Civil Society Elections Situation Room understood their roles in the process and have performed such within the ambits of INEC's guidelines.
" As credible organisations, we have efficiently performed our observatory function, drawing up recommendations for improvement in future elections.
"We will never interfere with the conduct of elections or seek to interfere with the judicial processes leading up to a redress of grievances resulting from the elections.
"As a matter of fact, no genuine civil society group will side with any political parties as the position of the group is expected to be apolitical. We regard as act of desperation and selfishness the attempt to rope credible organisations into reports that are clearly politically motivated and sponsored, which claimed to be speaking on behalf of the INEC accredited observer groups in Kano State."
They, however, called on the public to disregard in totality, "these wild reports making rounds and using the names of credible organisations and called for the cancelation of the governorship election in Kano State. We assure the public that we have never at any time issued such statements nor been a party to such conclusions.
"We strongly believe in democratic approaches to settling elections disputes and encourage all who are not satisfied with the process to seek redress in the court of law.
" We urge the media to filter credible civil society groups from faceless, politically sponsored groups who hide under the names of credible organisations to concoct fake stories that suit their narratives. We implore the media to desist from availing such unscrupulous groups the platform to propagate their disruptive, misleading, and fake stories.
"We warn sternly against the illegal use of our names spin narratives that are capable of further heating up the polity and creating chaos in Kano State and in Nigeria. Any further misuse of our names in this direction will be met by litigation."
They also noted the widespread electoral violence and other forms of electoral malfeasance that categorized the governorship elections, "particularly in Kano State and other parts of the country, we stand by our earlier recommendations on the part of INEC and other stakeholders to improve the elections in Nigeria.
"We thereby recommend the following: Strengthened collaboration with the security agencies in Nigeria is critical towards ensuring electoral security in Nigeria. As part of post mortem activities of the 2023 general elections, INEC must begin to prioritize collaboration with security agencies to protect voters from political thugs in future elections.
"Justice must be served and seen to be served on those who perpetrated electoral violence in the 2023 elections, not just in Kano but in all the flashpoints across the country. As we call on the international community to sanction these offenders, Nigeria must be seen to take actions to ensure justice.
"Very importantly also, we have seen how overburdened INEC can be and call on the incoming 10th National Assembly to prioritize legislation to establish the electoral offenders tribunal/commission which will take away the burden from INEC and ensure adequate and timely prosecution of electoral offenders in Nigeria.
"It is also critical for the political parties to reposition the party system with the aim of improving internal democracy in their operations. A huge part of the problems of the 2023 elections stem from the lack of internal democracy in the major political parties in Nigeria. As a machinery that brings about leadership in Nigeria, political parties must ensure democratic tenets in their internal operations or may never be able to uphold democracy in Nigeria.
"We recommend that, all potential elections observers should pass through Anti-Corruption Agencies screening henceforth, to ensure that only prudent and credible organizations are accredited as observers in future elections
" We recommend that, all accredited observers should learn and strictly adhere with INEC guidelines on observers operations, to appreciate their limitations as observers, which is only to observe and make recommendations."