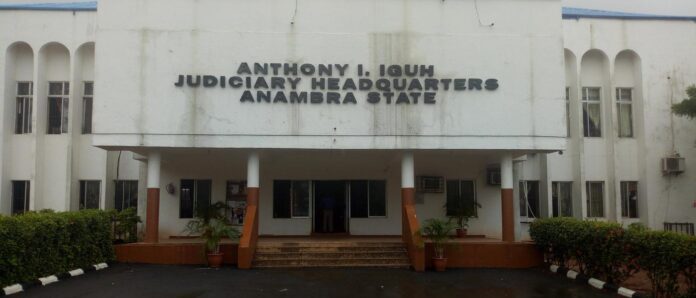 By Chuks Eke
Office of Attorney-General and Commissioner for Justice, Anambra state has served an arraignment notice on one Nwachukwu Ebenezer Kelvin to appear before a High Court of Justice, Nnewi Judicial Division, Anambra state on a day yet to be fixed for allegedly defrauding innocent Nigerians an amount running into Millions of Naira.
Loading ...
Some victims of the accused person had with the assistance of the police, tracked him down and arrested him for obtaining various sums of money from them under the false pretence that he was going to sell assorted brands of vehicles to them, while posing as a representative of Nwaguatahihia Motors Limited, a major car dealer based in Nigeria and overseas.
In the Charge No. HN/3c/2023, State Vs Nwachukwu Ebenezer Kelvin, the state counsel, in conjunction with counsel to Nwaguatahihia Motors limited, Chief Jideofor Okongwu noted that the accused person had between March 2021 and March 2022, allegedly defrauded his victims, Okey Orafu Innocent, John Leonard Okpala, Darlington Akwaiwu, Dozie Innocent Ejiofor and others yet to be identified of various sums of monies.
Specifically, the charge stated that the accused person, Ebenezer Kelvin fraudulently obtained the sum of N5,600,000 from John Leonard Okpala, adding that he equally defrauded Innocent Ejiofor and Darlington Akwaiwu of N2,500,000 and N800,000 respectively under the same pretence that he would supply them with assorted brands of imported vehicles from Nwaguatahihia Motors limited.
Insisting that the vehicles he displayed in his Facebook were intense to deceive and defraud the unsuspecting general public, the prosecution stated that the offence contravened Section 1 (3) of the Advanced Fee Fraud and Other Fraud Related Offences Act. 2006 and punishable under the same act.
Meantime, the management of Nwaguatahihia Motors limited has issued a statement disowning the accused person, Nwavhukwu Ebenezer Kelvin, saying that the statement is in the interest of the general public who could fall prey to the suspected fraudster in future.
In a statement, lawyer to Nwaguatahihia Motors limited, Barrister Jideofor Okongwu regretted that the real owners of Nwaguatahihia Motors limited, based in the United States of America USA which is a reputable car company with many branches nationwide has suffered so much dented image in the hands of these fraudulent actors who conspired to deceive members of the public.