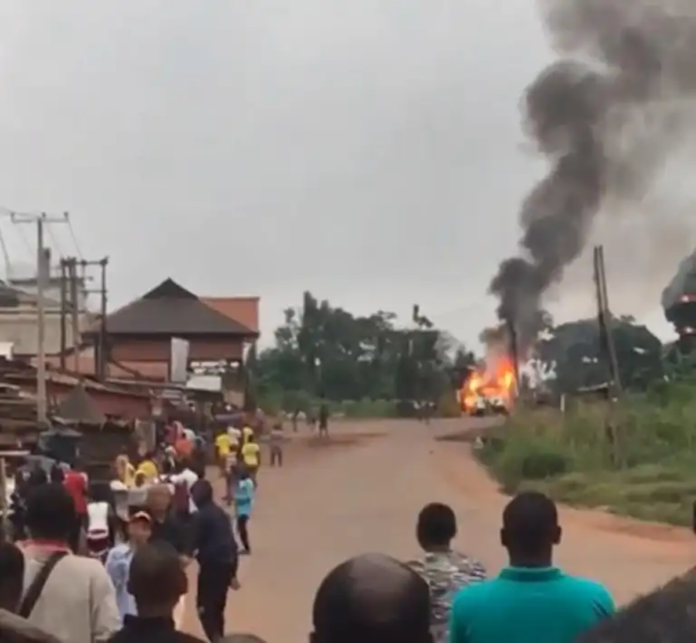 At least two vehicles and a tricycle have been set ablaze in Enugu by hoodlums trying to enforce the sit-at-home order.
Loading ...
It was reported that a Sienna was burnt by the sit-at-home enforcers at the Ibeagwa Junction along the Enugu-Opi road.
The Sienna, a commuter vehicle was said to be fully loaded with passengers in the early hours of Tuesday probably hurrying to leave town before daybreak.
Reports say the passengers escaped unhurt while the Sienna was set on fire.
In Emene, a suburb of the Enugu Capital city a bus selling bread was also set ablaze.
Hoodlums reportedly attacked the bus around the old Orie Emene market in the morning hours of Tuesday.
While the driver escaped by whiskers, the bus fully loaded with loaves of bread was looted and the bus set ablaze by the miscreants.
Security agents have reportedly stormed the area in an attempt to control the activities of hoodlums that were attempting to enforce the sit-at-home declared by the Indigenous People of Biafra, IPOB, today.
"The driver is the owner of the popular Chimex bread in the area," an eyewitness said while narrating what happened.
"They dragged the driver out, looted all the bread he was carrying in his bus and set the bus ablaze.
"Army arrived the scene to restore peace and shot into the air to disperse the hoodlums. There was no casualties from where I was watching what happened," he said.
Similarly, two tricycle popularly known as Keke were vandalised in the area. While one was set ablaze at Proda junction, the other one was destroyed just before Coal City University.
As at the time of this report tension was still mounting in Emene located in the Enugu East Local Government Area of Enugu State
IPOB had declared a sit-at-home today to commemorate the day security operatives invaded the home of their leader, Nnamdi Kanu at Afara, Umuahia in Abia state.