Advertisement
From Ahmad SAKA, Bauchi
The wife of Gombe State Governor, Asma'u Muhammad Inuwa Yahaya has joined the rest of the world in celebrating International Womens day with a call on women to be their sisters keepers and shunned all forms of gender based violence.
The theme of the day is Women in leadership achieving an equal future in COVID-19 World..
Advertisement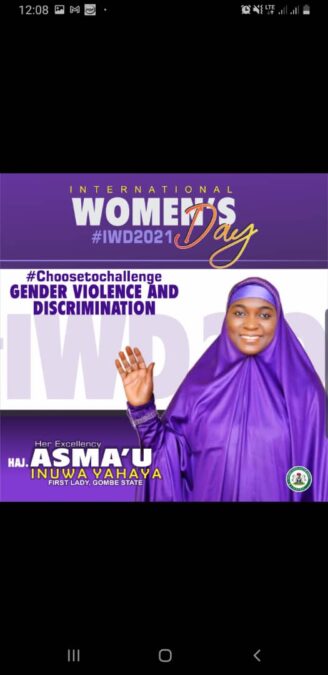 A statement signed and distributed to reporters by Bintu Aliyu Sunmonu
SSA MEDIA office of the First Lady said
The governor's wife emphasized the need to celebrate women's achievements everyday considering their roles in home management and governance, here in Nigeria and the diaspora.
"….Gombe State has produced the first ever Nigerian and African female UN Deputy Secretary General, Amina Mohammed, first Gombe State female minister of education, Aishatu Jibir Dukku and first female Nigerian ambassador to Malaysia,Dr. Hajara Ibrahim Salim from Gombe as well. They are our role models and mentors in the development of women and girl – child for a better future….first lady ".
Hajiya Asma'u pointed out that, Gombe State Government under the leadership of her husband, Muhammad Inuwa Yahaya is a clear demonstration of women inclusion in governance with eleven female counsellors,one each from the eleven local government areas of the State, a situation that has never been experienced before . This is in addition to the 3 female commissioners and 1 chairperson of Billiri local government .
Therefore, just as we reckon with these great achievers,the Gombe State First Lady called on all women to be their sisters and shun all forms of gemder based violence and discrimination .especially with the recent trauma experienced by the increase in women and girls kidnapping.
First lady said , as women and great assets for social change and national development , it is time for a more collaboration and concerted efforts to support each other in all fields of endeavor and stand out amidst COVID-19 pandemic.