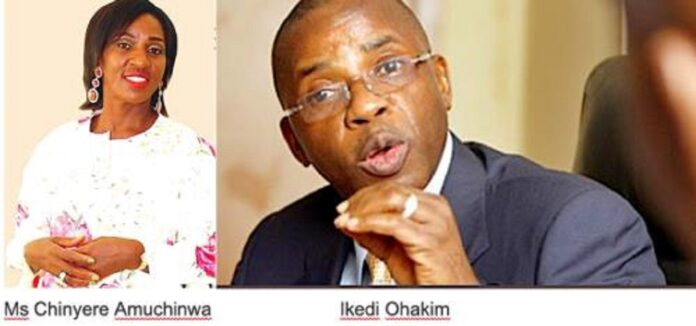 Press Release
August 19, 2020
It has come to the attention of His Excellency, Dr. Ikedi Ohakim that certain fifth columnists are now projecting themselves into the nasty and negative media campaign being sponsored by one Ms Chinyere Amuchienwa-Igwegbe against Dr Ohakim.
These people, who are presumably close to Ms Amuchienwa have resorted to circulating salacious photos and videos of her, all in an attempt to either settle old scores with her or add fuel to Ms Amuchienwa's media forays against Dr. Ohakim by making her or the public to believe that these unsavory things are coming from Dr. Ohakim. Whatever may be their unholy purposes, we hereby warn them to desist forthwith.
It does not matter whether such photos and videos are real or photoshopped. What matters is that those to whom Ms Amuchienwa might have shared those items with or those who might have hacked her phone or photoshopped her are not doing any favors to Dr. Ohakim.
Further, we have been reliably informed that Ms Amuchienwa is circulating a voice-note or other audio recordings that she purports to have come from Dr. Ohakim. In this age of transpositions and photoshopping, such audios may come across to unsuspecting persons as Dr. Ohakim's voice, but we wish to categorically state that such is absolutely not the case.
We must add that these unpleasant things are possible only because Dr. Ohakim is a Politically Exposed Person and thus is vulnerable to characters that believe they can latch on that to take advantage of him. But we are determined that their antics will be contained.
This unholy act is reminiscent of previous attempts to clone Dr. Ohakim's voice in the build up to the 2011 general elections in the state, and sundry false accusations against him. But those who carried out those unholy acts have since recanted, and as a God-fearing man Ohakim has since forgiven them.
Therefore, we ask that all that come in contact with such audios and videos, both of Ms Amuchienwa and Dr. Ohakim, should discountenance them in their entireties.
Signed:
Emmanuel Chukwu,
Political Adviser to Dr Ikedi Ohakim
Burma Retreat
Okohia, Mbano, Imo State.